Yankees: 1 forgotten Boston mistake that flipped Sunday's win vs Sox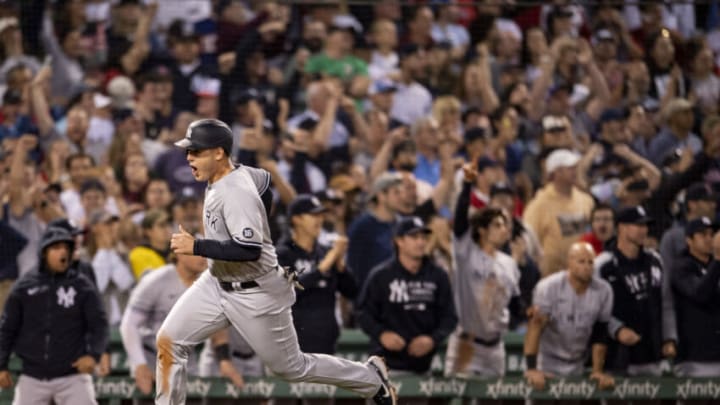 BOSTON, MA - SEPTEMBER 26: Anthony Rizzo #48 of the New York Yankees reacts as he scores on a go ahead RBI double during the eighth inning of a game against the Boston Red Sox on September 26, 2021 at Fenway Park in Boston, Massachusetts. (Photo by Billie Weiss/Boston Red Sox/Getty Images) /
God, was the weekend Yankees–Red Sox series a dream, or did that all really happen?
Did Giancarlo Stanton really rear back and two-handed chuck a baseball bat at his own dugout before circling the bases and collecting RBIs nine and 10 on his third homer of the weekend set?
Pinch me … or, wait, maybe don't. I don't want to wake up.
Of course, in order to properly encapsulate the joy I felt this weekend, I need to thank every Red Sox whose failure made our success possible.
There was Darwinzon Hernandez, who looked at Stanton after a deep breath and decided, "Yes, a 94 MPH center-cut fastball is the way to go here." There was Adam Ottavino the next night, an embedded Yankee armed with the knowledge that Stanton often chases sliders in the opposite batter's box but … deciding not to use that knowledge.
There was Alex Cora, multiple times for a million reasons. For misreading, or ignoring, Anthony Rizzo's splits and bringing in Hernandez to face him anyway. For going to the mound and begging Hernandez to throw strikes, tipping Stanton off to the fact that a fastball was coming. For not delaying the game whatsoever while the whole Joe West debacle was going on, asking for no one's help and barely even fighting it. For using Martin Perez as a Surrender Cobra in Game 1 seconds after Rafael Devers' home run to cut the deficit to four! Thank you, AC, for all that you do.
But the preeminent blunder of Sunday's game, which threw off the entire trajectory of the eighth inning, has largely been forgotten: if anyone had simply turned around and watched Anthony Rizzo moving towards second on his double, they would've noticed he wasn't even close to the bag, and was primed to be cut down by 10 feet.
The Red Sox gave Anthony Rizzo and the Yankees nine lives on Sunday.
The other gaffes are more notable, sure. Bobby Dalbec dropped Aaron Judge's pop-up after imagining a wall that wasn't there. Christian Vazquez, behind home plate, whipped Judge's strike three out of his glove in an effort to look cool and slick and fumbled the transfer, leading to West's confusion.
But, if not for Jose Iglesias outright ignoring the running Rizzo, the Sox could've (and should've!) gotten two straight outs on the bases to mute New York's rally.
To start the inning, Tyler Wade pinch ran for Gio Urshela and was thrown out at second on a steal attempt when he … didn't slide. At all. On the heels of DJ LeMahieu's dropped looper and Joey Gallo's outright failure in left field, the Yankees' gaffes were the story. If Iglesias had simply turned around after Rizzo's scorched 115+ MPH line drive that got out there so quickly he couldn't even comfortably make it to second base, we would've had a second embarrassing base running mistake after a half-inning packed with fielding mistakes.
Instead? Sweep.
Everything could've changed. The Yankees could've been on a four-gaffe streak.
Instead, Iglesias looked home and wandered around the open infield. Disaster unfolded. Boston unraveled. And it all could've been prevented with a head tilt.