Yankees: Dumb fan gets ejected for throwing ball on field after Rangers OF gives it to him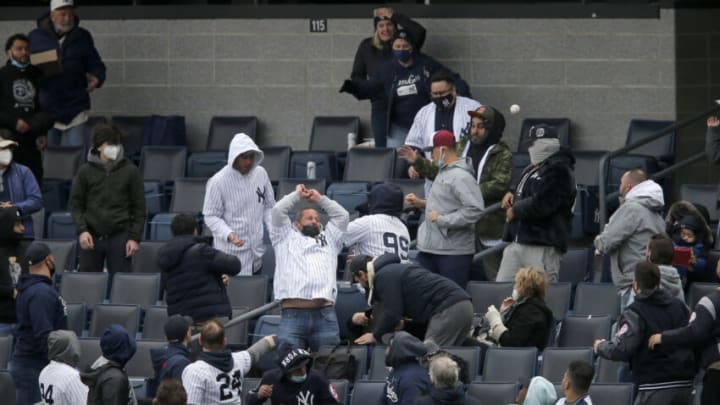 NEW YORK, NEW YORK - APRIL 01: (NEW YORK DAILIES OUT) Fans reach for a foul ball during a game between the New York Yankees and the Toronto Blue Jays at Yankee Stadium on April 01, 2021 in New York City. The Blue Jays defeated the Yankees 3-2 in ten innings. (Photo by Jim McIsaac/Getty Images) /
Throwing an opponents' home run back onto the field? Tradition. Widely accepted, in fact, assuming you're not targeting a player.
But what we saw at Yankee Stadium on Monday night in a game between New York and the Texas Rangers … that's not gonna fly.
Anthony Rizzo hit one of his 15 foul balls down the first base line, and one leaked into the outfield after careening off the netting. Rangers slugger Adolis Garcia picked it up and tossed it into the crowd, and a lucky fan came down with a souvenir …
… for a moment. The goon went absolutely berserk, stood up on a seat, and launched the ball right back into right field, which stopped the game momentarily.
Maybe he sparked a rally, though? Because the Yankees scored three more runs after this to take a much-needed 4-0 lead after their disastrous weekend against the Cleveland Indians.
Still, a dumb and disrespectful move, and the fan was ejected. Not the fan behavior you want!
A Yankees fan was ejected for throwing a foul ball back onto the field.
First we're booing Gerrit Cole off the mound on Sunday, and now this? Really not a good look for Yankees fans this year, who have been in the crosshairs of every other fanbase that all of a sudden thinks they've never oversaw unruly behavior throughout the history of their team being in existence.
We'll tell ya what, though. The Indians definitely didn't help with their instigating over the last few days. Yankees fans are going through it right now. Giving them any more semblance of fuel to expedite their combustion is dangerous since New York's playoff hopes are fading.
It's up to the Yankees to control their fans' emotions at this point and the only antidote is winning. They've gone 4-3 over their last seven against sub-.500 teams but can make up for it by sweeping the Rangers (one of the three worst teams in baseball) to bring that to a more respectable 7-3 mark before heading to Boston in what will be a true season-defining series against the Red Sox.
We definitely can't promise more balls won't be dangerously hurled back onto the field if that doesn't happen, though.