Former Yankees pitcher rips Alex Rodriguez's analysis on Sunday Night Baseball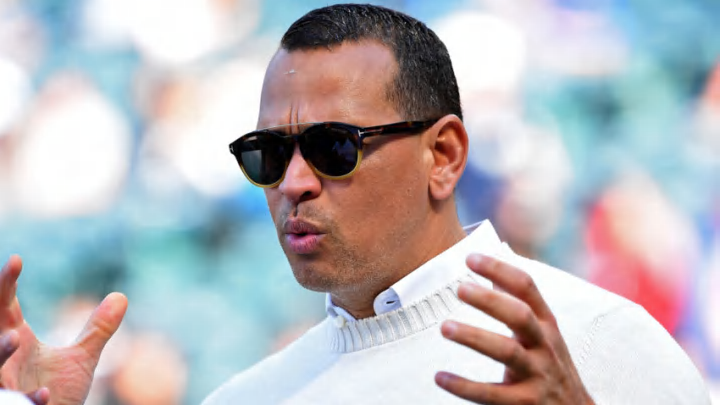 ANAHEIM, CA - APRIL 28: Former New York Yankee Alex Rodriguez, currently with ESPN for Sunday Night Baseball, looks on during batting practice before the game Los Angeles Angels of Anaheim at Angel Stadium on April 28, 2018 in Anaheim, California. (Photo by Jayne Kamin-Oncea/Getty Images) /
Whenever the New York Yankees are scheduled to be broadcast on ESPN's Sunday Night Baseball, fans can't help but roll their eyes.
The same can likely be said for every fan base that's grown tired of listening to Matt Vasgersian and Alex Rodriguez dissect games.
Like clockwork, ESPN's premier MLB broadcast team found itself in the crosshairs of Baseball Twitter during Sunday's showdown between the Dodgers and Mets, two teams Yankees fans really don't care much about.
However, that didn't stop former Yankees pitcher Brandon McCarthy from laying into Vasgersian and Rodriguez with a fiery mid-game tweet in which he lampooned A-Rod's abilities behind the mic.
You thought he was done there? Nope! McCarthy said that listening to Rodriguez on ESPN is "not a fun, easy, or informative" conversation. Safe to say he's not a fan of the broadcast.
Brandon McCarthy clearly isn't a fan of Alex Rodriguez calling games.
McCarthy has had it out for Rodriguez for several years now, as he was one of the first high-profile individuals to call out the former three-time MVP after he advocated for the players' union to accept a salary cap amid his now-failed attempt to purchase the Mets despite the fact that he made over $400 million during his career.
Having said that, there was nothing biased about McCarthy's tweet. Rodriguez's analysis has drawn the ire of fans ever since he joined ESPN back in 2018. He frequently stumbles over his words and makes callbacks to his playing days instead of analyzing what's in front of him.
Rodriguez is also prone to discussing other storylines around MLB as if this is his chance to let viewers know his opinion of the game's biggest talking points, when in actuality his attention should be focused on the game assigned to ESPN that night.
If you thought McCarthy was done there, though, think again. When a fan responded to his tweet with their own criticism of A-Rod, McCarthy saw it as an opportunity to further elaborate on his point…and he didn't hold back one bit.
Suffice it to say the McCarthy-Rodriguez rivalry has been turned up a notch. The only thing missing is A-Rod himself calling out McCarthy for the constant slander, but unless it starts raining cats and dogs, there's no chance that's going to happen.
Unfortunately for Yankees fans, the club has has two games remaining this month that are scheduled to be broadcast on ESPN: this Wednesday vs Boston and Aug. 29 (Sunday) vs Oakland, so now might be a good time to start preparing for that.