Yankees clearly dodged bullet keeping this player out of Joey Gallo trade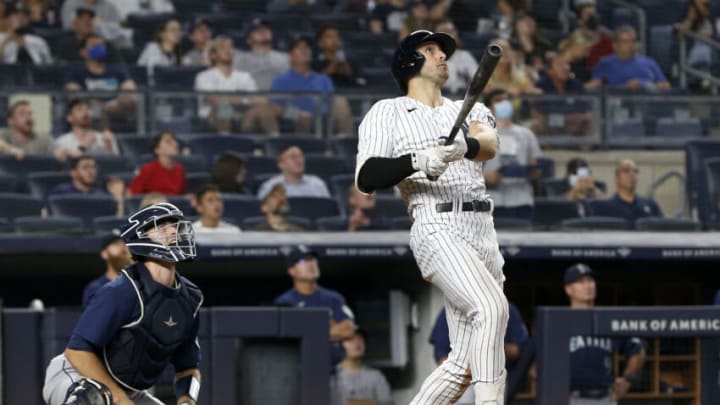 NEW YORK, NEW YORK - AUGUST 05: Joey Gallo #13 of the New York Yankees follows through on his seventh inning three run home run against the Seattle Mariners at Yankee Stadium on August 05, 2021 in New York City. The Yankees defeated the Mariners 5-3. (Photo by Jim McIsaac/Getty Images) /
The New York Yankees escaped the trade deadline without surrendering any of their upper-echelon talent, no matter what detractors who desperately wish they'd cleaned out their farm system want you to believe.
In 4-for-1 trade packages, though, the goal is to always keep the unheralded and largely-unnoticed gems out of the margins.
No team wants to watch a throw-in become a superstar, and the Joey Gallo trade talks with the Texas Rangers very nearly became a prime opportunity for the Yankees to get overwhelmed and step in it.
After all, at one point, the rumored four-player package seemed to be ballooning to five or six, with Yankees pitching prospect Randy Vasquez likely involved. When the dust settled, Vasquez somehow remained on the cutting room floor, possibly because of the perceived downgrade from reliever John King to Joely Rodriguez (due to medical concerns).
The Yanks should be thanking their lucky stars for whatever confluence of events led to the swap.
Not only has Rodriguez been serviceable at the big-league level, eating innings that an injured King never could've, but Vasquez has continued to distinguish himself after being elevated to High-A Hudson Valley, getting better in each start across four sterling outings.
Where do the Yankees keep finding and developing these guys?
The Yankees almost lost a hidden gem to the Rangers in the Joey Gallo trade.
Vasquez has been tremendous in 2021, but in a Yankees system experiencing a few breakouts at every level, it's clear how the righty's season might've been viewed as spillover. He requires a 40-man spot at the end of the season. Decisions always must be made, and there are consequences to those decisions.
But on the other hand … the numbers don't lie. The eye test doesn't lie. And Vasquez should probably just be given that 40-man spot he needs, Brooks Kriske be damned. The Yankees did a good job of clearing several Rule 5-eligible names out at this year's deadline, from Glenn Otto to Janson Junk. Clearly, Vasquez stayed (at the horn) for a very good reason.
Across two levels this season, the diminutive 22-year-old righty has punished the opposition, whiffing 96 in 73 innings pitched, including escalating totals in his first four starts with Hudson Valley.
Though his arrival may have been mysterious at first (after all, no one had heard of him on April 1), video footage of his nasty arsenal should clear up the mystery of his success rather quickly. It's obvious.
Forcing a team to surrender a fifth largely unknown piece like Vasquez in a desperation deadline deal is how some GMs — like Rangers newcomer Chris Young — make hay and improve their teams ahead of their self-imposed timelines.
Whether due to medical concerns with the package or well-timed cold feet from Brian Cashman, the Yankees managed to extricate Vasquez from the finalized deal in a stroke of genius.
Now don't lose him this offseason. We're counting on you. These highlights are like hypnotherapy.