Yankees: 3 forgotten targets NYY could pursue at trade deadline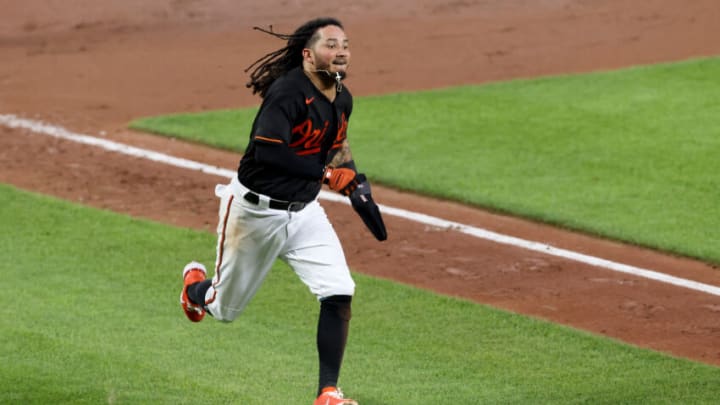 BALTIMORE, MARYLAND - JUNE 18: Freddy Galvis #2 of the Baltimore Orioles comes into score against the Toronto Blue Jays in the eighth inning at Oriole Park at Camden Yards on June 18, 2021 in Baltimore, Maryland. (Photo by Rob Carr/Getty Images) /
Pitcher Scott Barlow #58 of the Kansas City Royals (Photo by Jamie Squire/Getty Images) /
1. Scott Barlow
Now that…that looks like a baseball player right there. Scott Barlow can stay in my bullpen any day.
Barlow won't be a buy low, but he can still likely be had for a top-20 prospect and a back-end top 30 lottery ticket. If Kansas City holds out for anything more, then fine. We'll just have to attach Whit Merrifield or say goodbye.
Barlow's elevated WHIP of 1.27 is a bit worrisome, but his strikeout numbers are a thing of beauty (62 in 45.2 innings pitched), meaning he has the perfect weapon at his disposal to wriggle out of the trouble he creates. The 28-year-old reliever is a barrel of flowing hair and whiffs, and he's become just as vaunted as his teammate, Josh Staumont, who was everyone's favorite snap-dragon relief target entering the season. If Barlow ends up costing the same as what we were mocking in a Staumont deal before the season, then sue us, but the Royals can't reasonably be expecting the farm for someone who's only just now gotten his ERA below 4.00. Maybe a couple of livestock.
Kansas City started strong in 2021, but has faded quickly despite making all the right moves and adding veteran leaders instead of actively tanking. Now's the time when that foresight reaches its natural boiling point. Instead of trading foundational pieces, they can now deal Merrifield, Andrew Benintendi, or Carlos Santana to a hungry contender. The Yanks could very well be after Santana, especially if Luke Voit's injury issues linger, and if they pull the trigger, they'll be getting patience and power at the perfect position.
Veteran and non-controllable position players don't really merit much of a return these days, though. Add Barlow to Santana, and the Yankees will probably give you a back-end top 10 guy off the 40-man to clear up a roster crunch.
Or, you know, Barlow can just go to the Red Sox instead. He already looks like one.