Yankees: 3 forgotten targets NYY could pursue at trade deadline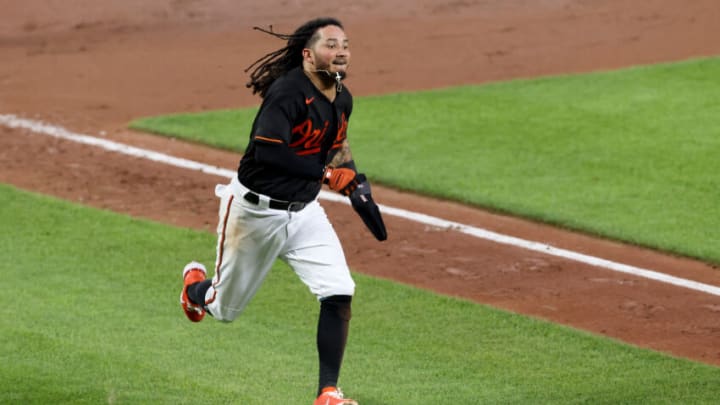 BALTIMORE, MARYLAND - JUNE 18: Freddy Galvis #2 of the Baltimore Orioles comes into score against the Toronto Blue Jays in the eighth inning at Oriole Park at Camden Yards on June 18, 2021 in Baltimore, Maryland. (Photo by Rob Carr/Getty Images) /
Freddy Galvis #2 of the Baltimore Orioles (Photo by G Fiume/Getty Images) /
The New York Yankees have recently begun winning games thanks to an infusion of speed and joy from Greg Allen, Ryan LaMarre and Estevan Florial. Gleyber Torres has hit for power. Gary Sanchez has delivered some timely bombs. It's really been something.
But this roster's not finished.
Any time you can turn over a roster six men at a time and the baseball improves, that's a telltale sign that more deadline adjustments could be fruitful for a Yankee team in the midst of the Wild Card race.
In other words, LaMarre and Allen have been wonderful, but they can't hold a three-run lead in the eighth. Can't be walking people, Zack Britton. Can't be doing it.
Plainly, this team could still use an upgrade or two in the bullpen (now that we know Darren O'Day and Justin Wilson won't be those upgrades), as well as someone who can do Tyler Wade's job better than Tyler Wade can.
We'd like another starter, too, but we won't necessarily get picky if we get a Luis Severino/Nestor Cortes Jr./Corey Kluber combo back shortly. It's not the "best deal we could've made at the deadline," as Brian Cashman will likely tell you, but it's a three-man rotation infusion that doesn't cost prospect capital (and Clarke Schmidt could be back, too). Not awful.
So, to the 'pen and the infield it is. You all know the high-profile candidates who'll change hands, but we don't foresee the Yankees being in the market for Craig Kimbrel and Trevor Story. Keep your eye on these three trade candidates who've been forgotten, but could be among the first names moved on July 30.
The Yankees should focus on these three forgotten trade deadline candidates.
3. Freddy Galvis
Freddy Galvis: He's not Tyler Wade!
Want offense? Galvis is a perfectly league-average bat, providing a bit of pop and a 97 OPS+ — in other words, exactly what the Yankees need. Want defense? Galvis can slot in at multiple infield positions to give all the usual suspects rest, and though DRS and UZR don't love him, Statcast's OOA is a big fan, as is the eye test.
Remember, the metrics hate Gio Urshela, too. There's room to fudge. We're also just talking about a Wade upgrade, not a multi-year starter.
This one really isn't tough to justify. Wade is extremely quick, it's true. But when he gets a hit, bunting unfurls from the upper deck and the game is stopped for an immediate parade. He has a 39 OPS+ in nearly four months of action. He has a negative 0.3 WAR despite being largely impressive on defense. Has it felt, at times, like the 2021 Yankees haven't been far from contending, but have simply watched little things bounce in the wrong direction? Having a capable backup infielder who can come through 30% of the time will greatly change the narrative, especially when that person swaps in for one of the worst offensive players in the game. Replacing Clint Frazier with Greg Allen has felt like a breath of fresh air, and we can do it again.
Will the Orioles trade Galvis within the division? Of course! They traded Zack Britton within the division, didn't they? Drop a top 20-25 prospect on them and close the deal.