Yankees: Chad Green and Brooks Kriske team up to blow essential win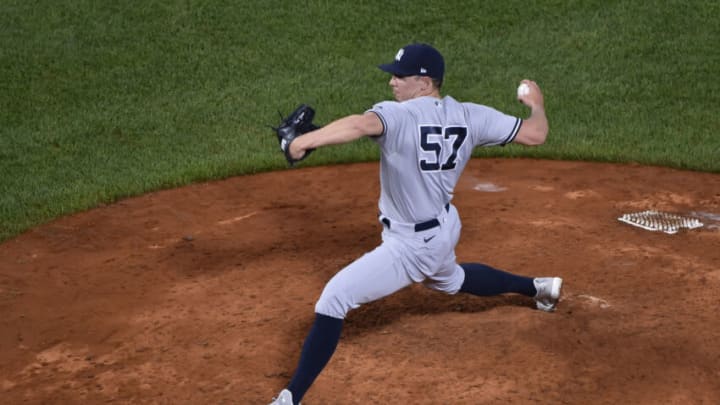 Jul 22, 2021; Boston, Massachusetts, USA; New York Yankees relief pitcher Chad Green (57) pitches during the ninth inning against the Boston Red Sox at Fenway Park. Mandatory Credit: Bob DeChiara-USA TODAY Sports /
No, the New York Yankees will not be winning the American League East in 2021.
No, the New York Yankees will not be winning the American League Wild Card Game in 2021.
And you know why that won't be happening? Because they'll finish two or three games out, with two or three or four or five or six of the worst blown losses you'll ever see on their ledger, and that'll be the difference.
On Thursday night, the Yankees brought a Triple-A lineup and a Triple-A pitching staff to Fenway Park in the opener of a four-game series. After a bizarre bottom of the seventh, they re-took the lead against old friend Adam Ottavino and actually ended up one inning away from a narrative-changing victory.
Then they handed the ball to Chad Green, one of very few major-leaguers who sat out in the bullpen today, and you'll never guess what happened next.
Chad Green has been unpalatable almost more often than he's been effective in 2021, it seems.
Handing him the ball instead of Luis Cessa might've been the right move after Cessa breezed through the middle of the order on just five pitches. It sounds second-guess-y to claim otherwise.
But Green didn't have it on the most important night of the season, a week and a half after Green didn't have it on the other most important night of the season in Houston. He threw a middle-middle 0-2 fastball to Bobby Dalbec, then with Kiké Hernandez up as the winning run and sitting dead red, he tried another one.
3-3 tie, we went to extra innings, and then something amazing happened: a contender for the worst pitching performance in league history. You're in the history books, Brooks Kriske!
Given a 4-3 lead (ha!) thanks to the free runner at second, Thursday's hero turned in the worst outing possible: wild pitch, wild pitch (tie game), walk, wild pitch, WILDEST pitch over everyone's head, JD Martinez strikeout (retire), and a game-winning sacrifice fly.
Aaron Boone was unwilling to extend Aroldis Chapman and Zack Britton for three consecutive days. We understand. But at that point, simply signal to Rafael Devers that he could freely circle the bases in a tie game in the ninth. This was never ending any other way. This was fruitless from the second Green dabbled in spot-missing.
Well aware that fans tend to exaggerate in the heat of the moment, but how many times have the Red Sox completed this exact sequence of events against us at Fenway Park over the past, say, five years? Conservatively 10? How many times have we done it to them at Yankee Stadium? Name one.
At no point did this game feel secure, but the 2021 Yankees almost completed another miracle in a week filled with wins they had no business winning. Instead, they proved to be just another Yankee team: unable to secure the final out at Fenway, and hurling baseballs to the backstop for the final curtain.