Yankees: Angels' Dylan Bundy exits game after violent sickness on mound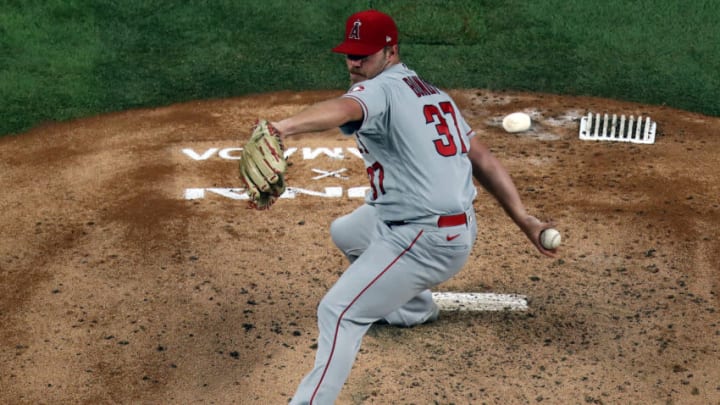 ARLINGTON, TEXAS - SEPTEMBER 10: Dylan Bundy #37 of the Los Angeles Angels throws against the Texas Rangers in the third inning at Globe Life Field on September 10, 2020 in Arlington, Texas. (Photo by Ronald Martinez/Getty Images) /
Fans in the Bronx were treated to a gruesome sight in the second inning of Monday's game against the Angels — and surprisingly, it had very little to do with the Yankees' offense.
Righty Dylan Bundy entered this game for Los Angeles in the midst of a difficult stretch himself, bringing a 6.68 ERA to the mound in a contest that started with a "real feel" temperature of 95 degrees.
Rumor had it the high level of humidity had no intention of resulting in raindrops, though everyone involved probably wishes it would have.
Staked to a 2-0 lead, Bundy put the first two runners in scoring position in the first inning before wriggling out of the jam with only one run scored. Unfortunately for the righty, a Gio Urshela home run tied things in the second before things really got loose.
No, Bundy didn't allow any more runs, nor did he finish off the inning with a flourish.
After battling back to set down Brett Gardner, placing a runner on second and two outs, he keeled over behind the mound…at which point the YES Network gave him the same treatment they would a wayward streaker in the middle of right field.
The next time we saw Bundy, it was clear his sopping wet jersey had turned a darker shade of gray, and the mound needed some, uh…swift work from the grounds crew.
Yankees: Angels righty Dylan Bundy vomited on the mound and left Monday's game.
We've seen incidents like this before, but typically they're not as frightful as what Bundy provided us and they don't result in the starter exiting the game.
Already in trouble, Joe Maddon decided Bundy wasn't healthy enough to explore the rest of this game, quickly sending him to the showers while the righty held his mouth closed with a towel on the way back to the dugout.
Would you like to see a video of the event? Sure.
Quick follow-up question, though: why?
Also, would you like to see Kevin Durant watching the incident?
The Yankees' only real advantage in this game was their chance to face the scuffling Bundy, which was erased far too early for their liking.
However, that doesn't seem terribly important right now, and our thoughts are with the Angels pitcher after his harrowing exit.