Yankees: Corey Kluber leaves game early as injury concerns mount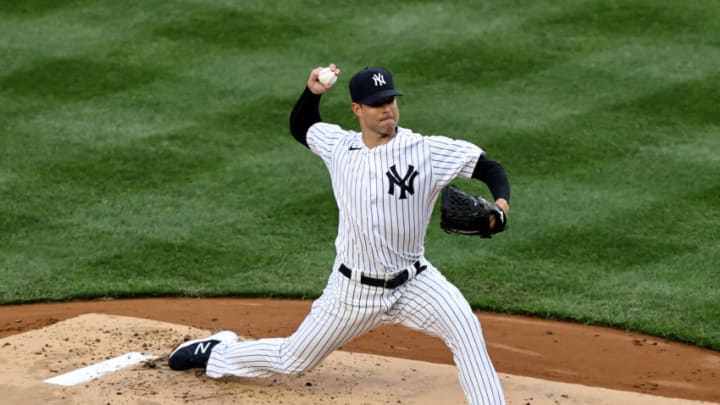 NEW YORK, NEW YORK - APRIL 21: Corey Kluber #28 of the New York Yankees delivers a pitch in the first inning against the Atlanta Braves at Yankee Stadium on April 21, 2021 in the Bronx borough of New York City. (Photo by Elsa/Getty Images) /
UPDATE: Corey Kluber left Tuesday night's game with shoulder tightness.
———————————————————————————————-
The New York Yankees' six-game win streak is in serious jeopardy, and that's not all to be worried about on Tuesday night.
Giancarlo Stanton, who was eligible to come off the injured list on Tuesday, was not activated and remained out of the lineup. More of the same nonsense.
But perhaps even worse, Corey Kluber left tonight's game against the Toronto Blue Jays early and nobody knows why yet.
The right-hander, who's fresh off last week's no-hitter vs the Texas Rangers in a start where he threw 101 pitches, lasted just three innings before he exited stage right.
Hit pitch count was elevated — he had thrown 58 through just three frames and allowed two earned runs on two hits and three walks — but there's no reason why he shouldn't have seen the fourth inning unless the Yankees were really concerned about the right-hander eclipsing the 100-pitch mark three times this season. Or … unless he's hurt. His command was more like the early-April version of Kluber.
All taking him out this early was ever going to do was raise injury concerns, especially after what he's dealt with the past two seasons.
Yankees starter Corey Kluber left Tuesday's game early with shoulder tightness.
Kluber was relieved by Michael King — hey, it's his birthday, wish him a happy birthday! — who promptly gave up a solo homer to Lourdes Gurriel Jr. Happy … birthday?
An inning prior, Vladimir Guerrero Jr. took Kluber deep for a two-run shot, which ended the Yankees starters' scoreless innings streak at 37.1. The party had to die down at some point, right?
In Kluber's defense, Guerrero Jr. is unconscious right now. He leads MLB in home runs and he probably sees a beach ball every time there's an offering his way.
Anyway, perhaps the Yankees are being cautious with Kluber. The way tonight's game started off, in addition to Stanton still not being back, DJ LeMahieu being on paternity leave, and the outfield remaining a bit of a mess, maybe Aaron Boone didn't want to put any more mileage on Kluber, or didn't like the way he was looking early on.
That'd be the optimistic take, however, based on how injury situations have unfolded for the Bombers since 2018.