Yankees: Gleyber Torres positive test stops momentum in tracks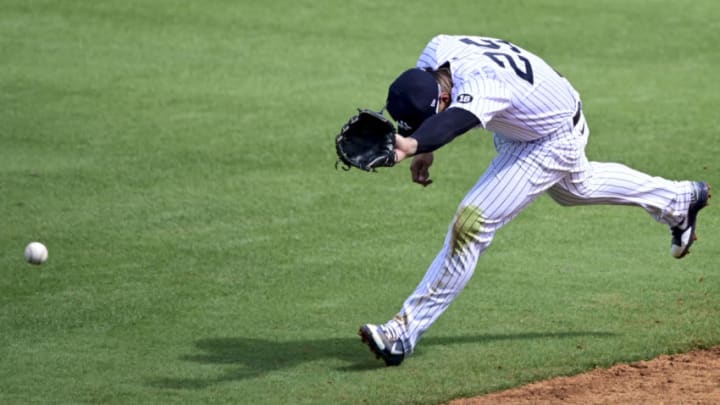 TAMPA, FLORIDA - FEBRUARY 28: Gleyber Torres #25 of the New York Yankees attempts to field a line drive during the third inning against the Toronto Blue Jays during a spring training game at George M. Steinbrenner Field on February 28, 2021 in Tampa, Florida. (Photo by Douglas P. DeFelice/Getty Images) /
The New York Yankees are now officially a marvel in the worst way possible.
Despite passing the vaccination threshold with over 85% of the team's personnel injected with the Johnson & Johnson one-shot vaccine, the Yankees have suffered through a significant outbreak this week, featuring a number of "breakthrough" positives.
Third base coach Phil Nevin tested positive for the disease despite being inoculated, and as far as we know, first base coach Reggie Willits and pitching coach Matt Blake are in the same situation.
Now, after an inconclusive evening where Gleyber Torres was held out of the lineup out of "an abundance of caution," he, too, ranks as another positive test that science dictates is…extremely difficult to comprehend.
Torres has been both fully vaccinated and reportedly suffered from an infection back in December, meaning his case seems to be the rarest of the rare.
Then again, this disease is clearly horrible, even with a vaccine to mute its most dangerous symptoms as it mutates.
Yankees star Gleyber Torres has tested positive for COVID.
Miguel Andújar will return to the Yankees in Torres' stead for an undetermined length of time — the COVID-IL, after all, does not have a definitive time limit. It's exceedingly difficult to place any limitations to this illness.
This positive test is devastating for so many reasons, not the least of which is its uniqueness as a form of medical marvel.
For Torres specifically, though, the timing could not be worse. After an awful start to the season as a full-time shortstop, Torres has now elevated his defensive metrics to among the best in the league thanks to a long climb. His power emerged for the first time over the weekend with a long home run against the Washington Nationals (a Mother's Day gift), and he's hit .268 over his past 15 games, a far cry from the doldrums we witnessed earlier in the campaign (when the entire team was in a rut, to be fair).
He's heard plenty of noise this season about his competence at short and his declining hard-hit rate, and was just beginning to prove the doubters wrong.
Unfortunately, he ran into the worst kind of medical marvels, so bizarre it's now being studied by the CDC as a worrisome vaccine complication.
Our thoughts are with Torres, who remains asymptomatic and will be able to return to a red-hot team as soon as he's cleared.
This is too strange for words.