Yankees: Corey Kluber's struggles are now officially alarming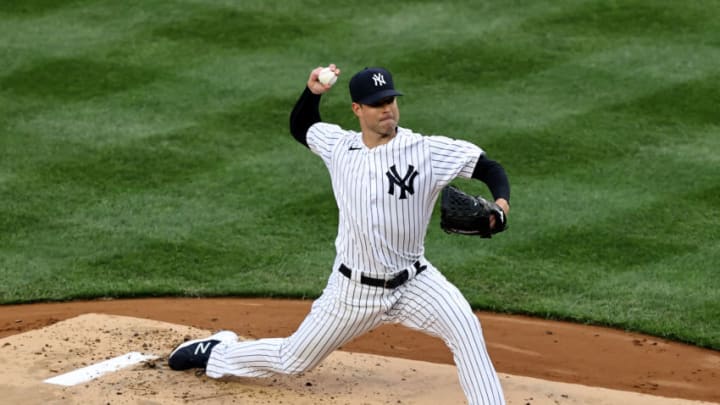 NEW YORK, NEW YORK - APRIL 21: Corey Kluber #28 of the New York Yankees delivers a pitch in the first inning against the Atlanta Braves at Yankee Stadium on April 21, 2021 in the Bronx borough of New York City. (Photo by Elsa/Getty Images) /
Why even discuss the pitching when the New York Yankees couldn't hit water if they fell out of a boat?
At this point, they could have a rotation of prime Nolan Ryan, Roger Clemens, Sandy Koufax, Bob Gibson and Pedro Martinez and would still find ways to lose games.
But the issue of Corey Kluber is beginning to take centerstage of the pitching discourse. This was a guy the Yankees took a risk on (in the form of an $11 million flyer) thanks to the guidance of Eric Cressey, the team's Director of Player Health and Performance.
So far, the results have swung the pendulum toward the "unmistakable risk" end of the spectrum. The concerns would be a lot more alarming if the team's offense, which has above-average hitters up and down the lineup, wasn't among the worst in MLB right now.
But Kluber has yet to pitch five innings in any of his four starts. Here's the breakdown:
vs. Blue Jays: 4 IP, 2 R (1 ER), 5 H, 3 BB
@ Rays: 2.1 IP, 5 ER, 5 H, 2 BB
@ Blue Jays: 4 IP, 3 ER, 6 H, 2 BB
vs Braves: 4.2 IP, 2 ER, 2 H, 4 BB
The most concerning was Wednesday against the Braves because he was doing so well, only to see it all come crashing down.
The right-hander finished with 91 pitches through his 4.2 innings of work, meaning it took him 44 pitches to get his last five outs. He only got six swings and misses on Wednesday night. He now owns a 5.40 ERA on the season.
The biggest problem has been his inability to harness his control. Fans have gotten glimpses of him painting the corners, but they're few and far between. Everyone knew it would take time for Kluber to get back on track because he's hardly pitched since 2019 due to two season-ending injuries, but not many thought it'd be this bad in the early going.
His curveball and cutter clearly still have movement — a week ago he got 10 swings and misses on 19 of his cutters — but he's leaving some of them out over the plate to be crushed. Either that, or can't properly locate them on a consistent basis. It's still not as big of a sample size as we'd prefer, but four starts is enough to at least begin to draw some conclusions.
Pitching just 36.2 innings over the last two seasons has clearly put Kluber in a bind.
It's still too early to say, but right now some fans might feel as if letting Masahiro Tanaka go was a mistake. At the very least, the Yankees knew what they were getting out of him. It was a mixed bag, but Tanaka hardly labored in the way Kluber and Jameson Taillon have so far in 2021. The Yankees' second biggest problem right now is a lack of longevity from their rotation, which is putting a strain on the bullpen.
Kluber did that once again on Wednesday night in the latest edition of the Bombers losing and boring their fans to death. Though he's not a main talking point at the moment because of the team's overall incompetence, we'd bet that there are ongoing conversations behind closed doors about how the Yankees are going to move forward with their highly skeptical rotation.