Yankees: Clint Frazier makes wild diving play and hits Braves player in face with throw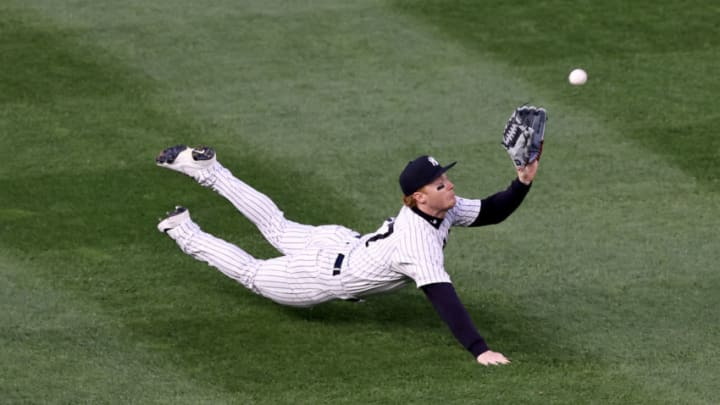 NEW YORK, NEW YORK - APRIL 21: Clint Frazier #77 of the New York Yankees catches a hit by Guillermo Heredia of the Atlanta Braves in the third inning at Yankee Stadium on April 21, 2021 in the Bronx borough of New York City. (Photo by Elsa/Getty Images) /
Fans were gifted with a solid evening of defense on Tuesday in the New York Yankees win over the Atlanta Braves. Could they get two?!
On Wednesday night, Clint Frazier's incredible diving catch in left field in the top of the third inning kept the train rolling and saved Corey Kluber from having runners on first and second with one out.
Braves outfielder Ehire Adrianza looped one into left field and Frazier had to make a long run to have a play on it.
In jaw-dropping fashion, he dove head-first with the palm of his glove front-facing and somehow snagged the ball out of mid-air for the out as he crashed to his stomach, nearly eating grass.
With his hat hardly resting on his head, Frazier rose from the ground, looked up, and saw that Braves slugger Austin Riley still hadn't made it back to first base yet, so he hurled a one-hopper over to Mike Ford.
Right off the hop, though, the ball shot up and hit Riley in the face and went into foul territory.
Brutal. But Riley's got a chin of steel! He laughed it off and didn't make much of it. All it did was hold him back from tagging up to second.
Other than that, though? Another snoozer of a Yankees game. Two hits and two walks through four innings. No runs. More of the same.
That play by Frazier got Yankee Stadium rocking, though, since the fans were thrilled to see the young slugger make such a great play after his early defensive struggles.
Now, he'll have to pick up his offense. He's batting ninth on Wednesday and is already 0-for-1, which saw his average drop to .158 on the year.
Perhaps this play in the field earns him some more trust with Aaron Boone and the front office. Frazier needs consistent playing time to break out of this. We're just glad this time that his throw across the diamond served a purpose, even though it didn't end with a double play.