Yankees: Rays' tweet before finale in Bronx is extremely painful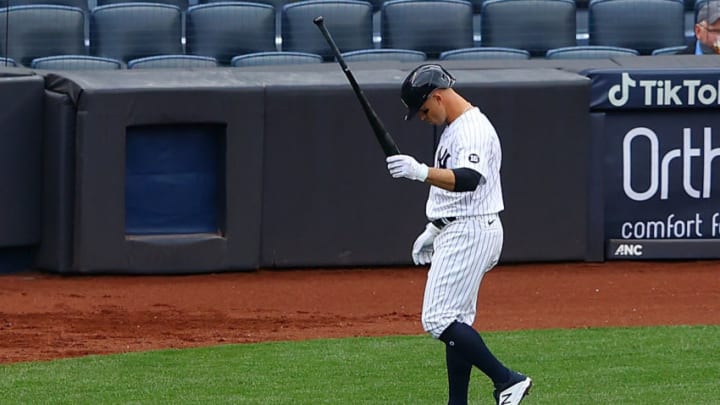 NEW YORK, NEW YORK - APRIL 17: Brett Gardner #11 of the New York Yankees reacts after striking out in the third inning against the Tampa Bay Rays at Yankee Stadium on April 17, 2021 in New York City. (Photo by Mike Stobe/Getty Images) /
The New York Yankees can't win in Tampa at Tropicana Field.
Accepted fact, has been for years.
The ceiling's gross, the fans are all easily-disappointed Yankee supporters, the turf bounces the wrong way, and the vibes are simply all wrong.
Well, we have terrible news. The Rays' pregame message/warning to the Yankees before Sunday's series finale did nothing to dispel that narrative, but rather provided us with an additional chilling note: things are even worse at Yankee Stadium.
Have you felt it? Have you felt things slipping?
With Saturday's victory, Tampa just secured their seventh straight series win over the Yankees (including the 2020 ALDS, played entirely in San Diego). Counting the two playoff wins, the Rays are…17-5 in their last 22 against the Bombers, including a 7-1 record in the Bronx vs. a 7-2 mark at the house of horrors in Florida.
We're going to need a moment.
The Yankees are worse against the Rays in the Bronx than they are on the road.
How 'bout that! Gerrit Cole, here's the ball. The best you can do is…even up our home performance against the team that continues to haunt us with our horrid road performance.
Shuddering.
Don't ignore the apple, by the way! The Rays knew that owned us to the extent that they set up a professional photoshoot at some point this offseason featuring their players smashing apples. They knew they'd have a chance to show that graphic off at some point in 2021.
And they were right! Did they know it'd be this soon?
It's "still early" for the 5-9 Yankees, but the team's anemic offense in the clutch has evoked playoff failures of the past several years (two decades?) repeatedly, and on another level, their fundamentals appear to be bizarrely poor. The fielding is dreadful, the mistakes on the bases are piling up, and they simply feel like…well, less of a baseball team than their AL East counterparts.
Even if Cole is the balm that soothes the Yankees' troubled souls on Sunday, this team has a lot to figure out before they can be considered contenders. Heck, they have a ways to go before they can even consider completing nine flawless innings.
Perhaps someday, this rivalry will again flip. For now, we really feel like the shattered apple, at home and away.