Yankees: Aaron Boone's Tyler Wade comments could give fans false hope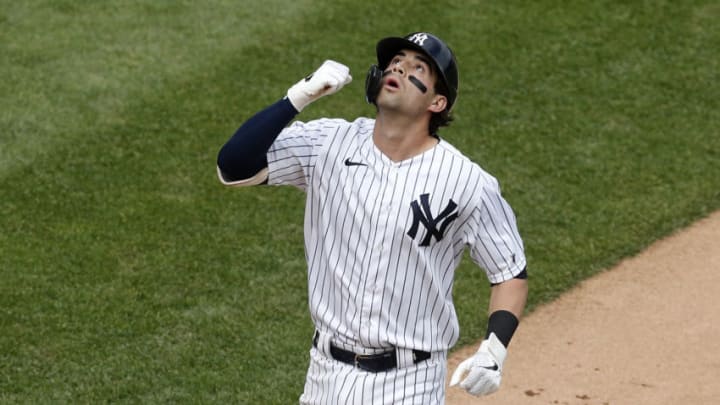 NEW YORK, NEW YORK - SEPTEMBER 26: (NEW YORK DAILIES OUT) Tyler Wade #14 of the New York Yankees celebrates his fifth inning two run home run against the Miami Marlins at Yankee Stadium on September 26, 2020 in New York City. The Yankees defeated the Marlins 11-4. (Photo by Jim McIsaac/Getty Images) /
Just when Yankees fans had finished their projections, made peace with Jay Bruce subbing in for Luke Voit and polished off their rosters, Aaron Boone told them exactly what they wanted to hear after Saturday's win.
Well, not exactly. But he got damned close to revealing his cards.
All spring long, Tyler Wade felt like an inevitability on New York's Opening Day roster, for better or worse (even though building your bench around its worst player feels misguided).
After all, every option they brought in to "battle" him doesn't have shortstop in their list of special skills — sorry, Derek Dietrich, whose contract was terminated Saturday, too.
Once Voit went down, we resigned ourselves to 40-45 Jay Bruce games at first, and a lot more Wade performances at second when DJ LeMahieu was shifted over to give Bruce a breather.
But does it have to be that way? Not so fast, said Boone.
https://twitter.com/lindseyadler/status/1375897219568664588?s=20
Yankees manager Aaron Boone played with fans' emotions regarding Tyler Wade.
Aaron Boone woke up and chose chaos Saturday. He didn't just say what I think he did…did he?
He might not be lying. There could actually be irons in the fire — though not Dietrich-related ones.
The Yankees would be unwise to simply accept Wade's contributions as gospel (and the middle infielder even looked hobbled on Saturday in his first at-bat, limping around). Maybe an IL stint (even a phantom one?) to avoid using an option, while a stronger alternative is acquired?
Look around the rest of MLB. The Yankees aren't the only team with a roster crunch.
The "Gio Urshela to short" speculation feels especially foolhardy now that first base has been destabilized, but it did prove New York was exploring all options to allow themselves to move on without Wade, whose baseball awareness and intangibles haven't exactly made up for his weak bat in recent years.
Is this false hope? Yeah, probably. The Yankees could easily just be trying to tie up loose ends and eliminate all alternatives before carrying Wade north.
But what is spring training for if not getting your hopes up?