Yankees: Tyler Wade's defense can't give him free pass to make Opening Day roster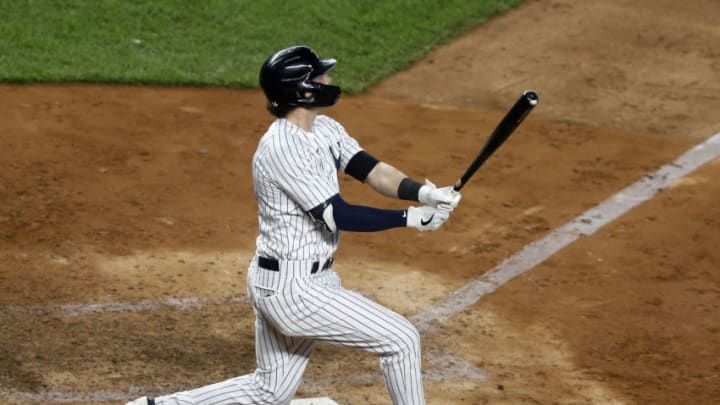 NEW YORK, NEW YORK - AUGUST 18: (NEW YORK DAILIES OUT) Tyler Wade #14 of the New York Yankees in action against the Tampa Bay Rays at Yankee Stadium on August 18, 2020 in New York City. The Rays defeated the Yankees 6-3. (Photo by Jim McIsaac/Getty Images) /
There's a reason the New York Yankees brought in Jay Bruce and Derek Dietrich this spring. Both are veteran lefty sluggers and are fairly versatile on defense.
Nobody has come outright and said it, but it's clear this was direct competition for Tyler Wade, whose earned his keep on the Yankees roster because of his ability to play both second base and shortstop effectively.
However, he simply cannot hit. And it's likely the Yankees are beginning to realize that's a big problem.
So far this spring, the former top prospect is batting .176 with a .461 OPS. He's struck out an alarming nine times in 17 at-bats. At this point, it seems like his offense is somehow regressing.
In 161 career MLB games, the 26-year-old is batting .190 with a .575 OPS. And are we really sure his defense brings that much value? Across 675 total innings at second base and shortstop, he has just two Defensive Runs Saved and an Ultimate Zone Rating of -0.5. So the advanced metrics aren't even really on his side.
It's not like Yankees fans are Wade haters, either. Many would love to see that left-handed bat start raking … or at least making contact. But there's been no indication of that (or much of an improvement outside of his 2019 campaign) since he debuted in 2017.
It's admittedly difficult to be productive when you're not getting full-time at-bats and are called upon to produce in limited spurts, but that's why one could argue carrying a veteran in this bench role is more valuable. They're typically more battle-tested and can make the most out of infrequent playing time, especially at the plate.
But the problem is that the Yankees do not have a viable backup shortstop to log reps when Gleyber Torres needs rest or (knock on wood) suffers an injury. There's been a little chatter about Gio Urshela moving to short in those instances, but then the Yankees would probably have to carry Dietrich if they're bailing on Wade, since Dietrich can play every infield position except catcher. If Urshela moves to short, somebody has to play third. If Dietrich isn't on the roster, then there's no way this would work.
It's undoubtedly a complicated situation and the Yankees feel that sacrificing one bat in a stacked lineup isn't that big of a deal, but when you see the better production Bruce or Dietrich can potentially bring, it really changes everything, especially since Wade's defense isn't that impactful based on the stats.