Yankees: 3 Mike Tauchman trades NYY should consider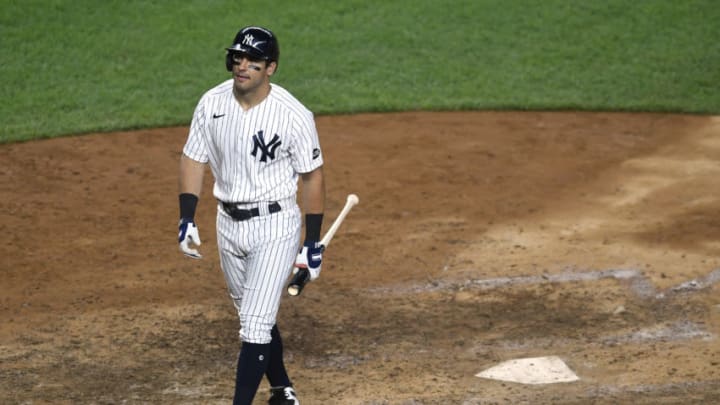 Mike Tauchman #39 of the New York Yankees reacts after striking oyt during the ninth inning against the Tampa Bay Rays at Yankee Stadium on September 02, 2020 in the Bronx borough of New York City. (Photo by Sarah Stier/Getty Images) /
MINNEAPOLIS, MN – SEPTEMBER 27: Joey Votto #19 of the Cincinnati Reds bats against the Minnesota Twins on September 27, 2020 at Target Field in Minneapolis, Minnesota. (Photo by Brace Hemmelgarn/Minnesota Twins/Getty Images) /
2. Yankees and Reds Trade for Mike Tauchman
The Reds have to be amenable to helping out the Yankees — after all, they owe them one after Sonny Gray was dealt to Cincinnati prior to the 2019 season and immediately regained his footing.
We all knew that was coming, and then it came.
So, how about one of your mid-teens pitching prospects and a draft pick for Tauchman, who by all accounts seems ready to shake off a shoulder issue and somewhat approximate his 2019 form this year?
Who can the Yankees acquire from the Reds for Mike Tauchman?
We personally favor 22-year-old lefty and No. 17 prospect Jacob Heatherly, but No. 20 prospect Bryce Bonnin, a third-round righty out of Texas Tech last year, could make sense, too.
Heatherly's most recent minor-league season was a washout (8.31 ERA in four injury-marred starts in 2019), and his profile is mostly based on projectability. A fastball that touches 95 with a big, blustery curveball will play, though, if he's able to iron out his command.
No pitching prospect in this range will be any sort of a sure thing, but the fact that Heatherly hasn't lost much of his prospect shine coming off back to back lost years shows there's a lot of organizational confidence in him.
Much like with wings, I'm not a Bonnin guy. But maybe you are! He struggled with his walks at Tech and posted a 7.36 ERA in 2020 before the season came to a grinding halt. He's a righty who lives 93-95 but can touch 97 and does profile as a starter long-term, but comes with similar kinks to Heatherly. Take your pick.