3 Yankees-Mariners trades we're surprised haven't happened yet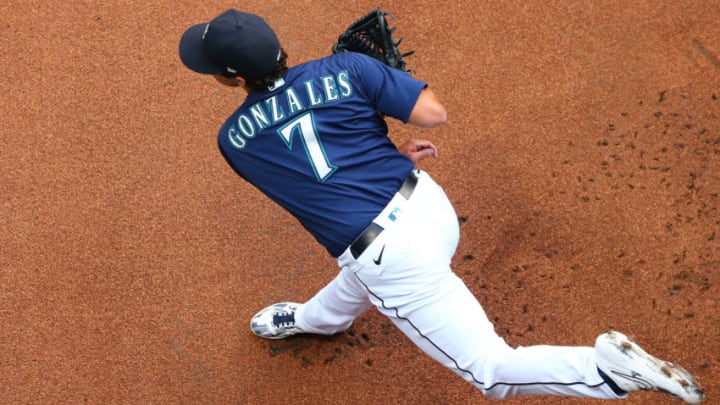 SEATTLE, WASHINGTON - SEPTEMBER 21: Marco Gonzales #7 of the Seattle Mariners warms up before their game against the Houston Astros at T-Mobile Park on September 21, 2020 in Seattle, Washington. (Photo by Abbie Parr/Getty Images) /
We don't get it. Don't the Yankees like attempting to pluck pieces from the league's middling teams?
Don't the Mariners like to trade with anyone and everyone, one of the few teams in baseball so enthusiastically willing to wheel and deal that Jerry Dipoto and Co. don't avoid the Yankees at all costs?
So what's the holdup here? Where's the moving and shaking in an offseason where both sides can clearly help each other?
The Yanks and M's haven't made a deal since the James Paxton trade of late 2018, which you could label a disappointment only because of how we lost 2020 nearly in its entirety due to injuries that may never have arisen if not for a pandemic-filled back surgery rehab. We'll never know.
Though the most iconic moment in Mariners history involves the Yankees — that depressing Edgar Martinez double into the corner to cap a comeback from down 0-2 in the ALDS — one could argue the Yanks were smart for losing that game and keeping baseball in Seattle. After all, if the M's had left, we might never have gotten Paxton's ALCS Game 5 start, or Montero-for-Pineda, or Ichiro, or … Dustin Ackley!
OK, missing out on that one might've been fine.
Bottom line, though, we're getting antsy. And in much the same way they did when they dealt us Tino Martinez following Don Mattingly's retirement, the Mariners could again insert themselves in the Yankees' hole-filling conversation.
Marco Gonzales #7 of the Seattle Mariners (Photo by Abbie Parr/Getty Images) /
3. Marco Gonzales Trade
The Yankees could still use as many possible innings-soaking arms as they can get in the rotation mix, and Marco Gonzales has the highest upside with the least impressive stuff of any potentially-available starter.
All Gonzales does is induce soft contact and, generally, thrive, and his rubber arm could be quite valuable in a rotation that doesn't have a lot of sure things involved.
Under control through 2024 and equipped with a team option that takes him through the next year, too, the Mariners have plenty of leverage in any Gonzales talks that ensue, especially since the crafty lefty posted the best numbers of his career in 2020 (7-2, 3.10 ERA, 64 whiffs in 69.2 innings pitched).
What would a Marco Gonzales trade cost the Yankees?
Gonzales will not be a bargain. He certainly won't be any easier to obtain than Paxton, whose greatest weaknesses were his greatest strengths. Paxton brings high variance; Gonzales brings durability, and he'll bring it to your rotation for quite a while.
It would be difficult to see the Yankees escaping these talks without surrendering both Deivi Garcia and Luis Medina, but it would give them a guaranteed bracket to their rotation. A load-bearing arm, which they currently do not have for Game 3.