Masahiro Tanaka likely returning to Japan and it's hitting Yankees fans hard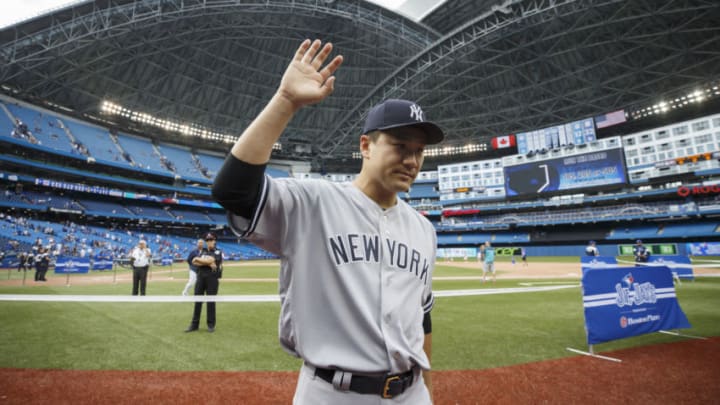 TORONTO, ON - AUGUST 11: Masahiro Tanaka #19 of the New York Yankees waves to fans as he leaves the field following a 1-0 victory in MLB action against the Toronto Blue Jays at Rogers Centre on August 11, 2019 in Toronto, Canada. (Photo by Cole Burston/Getty Images) /
It's official, Yankees fans. Masahiro Tanaka is returning to the Rakuten Golden Eagles
———————————————————————————————-
Yankees fans are going through it as Masahiro Tanaka's return to the Rakuten Golden Eagles becomes more likely.
When the New York Yankees signed Corey Kluber, Masahiro Tanaka's departure went from a likelihood to a near certainty.
And when the team opted for Jameson Taillon this week instead of vowing to surpass the luxury tax threshold, the move further cemented the end of a seven-year Yankee tenure comprised of mostly ups.
All that was left, at that point, was to worry about next steps. Would any MLB team fulfill Tanaka's request of $15-20 million annually for a year or two? Would it be the Toronto Blue Jays, which would be the most catastrophic outcome? Would Tanaka instead be returning to Japan?
Would it feel like a triumphant homecoming or a sad exile?
Yankees fans got a good portion of their answer on Monday night, when it was revealed that Tanaka was engaged in ongoing negotiations with his former NPB team, the Rakuten Golden Eagles, about a return. And they didn't totally know how to handle their resulting emotions.
Per Pete Caldera of NorthJersey.com:
"According to a report Monday from Sankei Sports out of Tokyo, Tanaka and the Rakuten Eagles are in advanced negotiations that could put the right-hander back in the uniform of his former Nippon Professional League team.An official offer could be made as early as this week, according to a person who translated the report.Terms of the pending offer are uncertain. Though it's possible Tanaka might still strike a deal with an MLB club, his free agent market has not developed as anticipated."
No one's market has developed as anticipated, but no other viable big leaguers have found greener pastures in an entirely different country yet.
If this is what Tanaka wants, we'll celebrate it! But if he leaves MLB against his will when he could've held down the middle portion of the Yankees' rotation, that'll depress us.
Though he was never again quite the same type of dart-spotting pitcher after his partial UCL tear in his debut season, and his declining fastball velocity led to a splitter regression in recent years, Tanaka still ranked among the league's elite over the course of his seven-year tenure, especially in October.
"Playoff Tanaka" gets a lot of play, but don't get it twisted: Zero playoff duds before the 2020 shortened season.
In 2017, he struggled through the regular season (13-12, 4.74 ERA, 194 Ks in 178 innings pitched), but the slate was wiped impressively clean when October arrived. Down 2-0 in the ALDS, Tanaka shut out the Indians in the Greg Bird Dinger Game to stem the tide and propel the Yankees' comeback.
Against the cheating Astros in two starts? 13 innings, 1.38 ERA and a Game 5 for the history books. That stolen ring puts an unfortunate damper on Tanaka's tenure in pinstripes.
You'll never hear a bad word said about Tanaka, and he'll be receiving standing ovations at Old-Timers' Day for as many as he wants to attend.
But we all can't help but feel that a COVID-19-inspired budget crunch led to this day arriving a few years earlier than it should've.