Yankees: 5 trade deadline targets for NYY as Aug. 31 rapidly approaches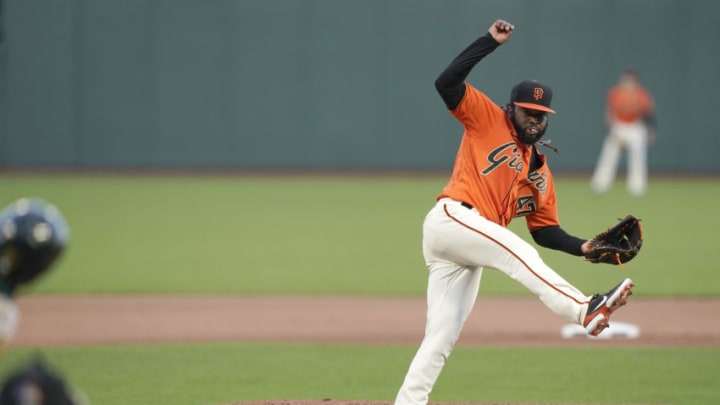 SAN FRANCISCO, CALIFORNIA - AUGUST 14: Johnny Cueto #47 of the San Francisco Giants pitches against the Oakland Athletics in the top of the fourth inning at Oracle Park on August 14, 2020 in San Francisco, California. (Photo by Thearon W. Henderson/Getty Images) /
The New York Yankees actually have to think about the trade deadline now. Weird.
As difficult as it's been to adjust our vocabulary while facing a 60-game season amid a pandemic, the New York Yankees are contenders for the World Series, and the trade deadline presents an opportunity for them to improve their roster on Aug. 31.
Oh, yeah, only a few issues: Eight teams make the playoffs per league, essentially every team in baseball is still in the race, and there are significant moral implications of trading a player across the country while the very act of travel remains pretty unsafe. But other than that, we're good to go!
In this hypothetical, we'll have to pretend that the literal mechanics of trading are hunky-dory. As of this writing, we have zero idea how the league will treat this deadline, and whether there'll sort of be an informal agreement that maybe we just don't do trades this year.
For now, though, it's fair to assume the have-nots who've already revealed themselves will be willing to deal, and contenders would prefer to plunder them.
These five targets could be good fits for the Yankees, with very limited options available.
Tony Watson #56 of the San Francisco Giants pitches against the Texas Rangers in the top of the eighth inning at Oracle Park on July 31, 2020 in San Francisco, California. (Photo by Thearon W. Henderson/Getty Images) /
5. Tony Watson
The Yankees would love to deploy Giants lefty Tony Watson.
The San Francisco Giants are the likeliest team in baseball to dip into their reserves this deadline.
After all, prior to the pandemic, they'd seemingly built a roster begging for one final tear-down. An offense without power or much promise, a pitching staff with a few high-priced veterans in their contract year (we'll get to them), and a decent bullpen, led (in theory) by Tony Watson.
Though Trevor Gott has been getting most of the Giants' high-leverage work this season (and will now be known for face-planting against the A's after Gabe Kapler placed all his faith in him), the 35-year-old Watson remains a dominant lefty in the shadows, and would be perfect in New York.
Even if Tommy Kahnle were healthy, it would be nice to have a high-leverage lefty like Watson, less of a platoon arm than Luis Avilan in the three-batter minimum era, and the first left-handed relief ace the Yanks would've imported since Justin Wilson.
In 5.2 innings thus far in 2020, Watson has a 1.69 ERA, and could be of far greater use to a contending team than a franchise perpetually stuck in between. C'mon, Giants. It's an even year. Help us make magic.