Yankees: Aaron Judge's latest quotes about recovery will fire you up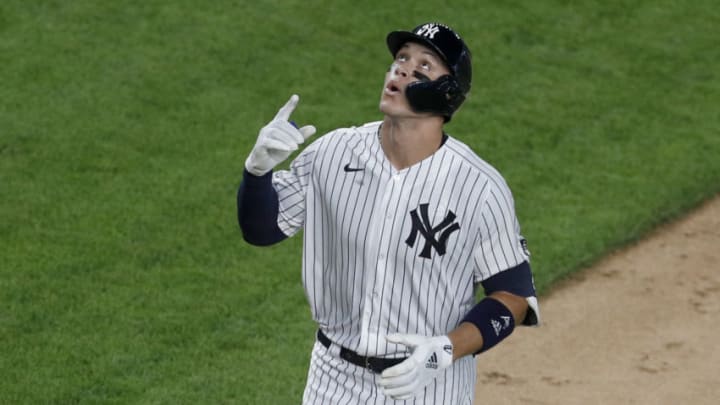 Aaron Judge #99 of the New York Yankees celebrates his fifth inning home run against the Atlanta Braves at Yankee Stadium on August 11, 2020 in New York City. The Yankees defeated the Braves 9-6. (Photo by Jim McIsaac/Getty Images) /
Yankees star Aaron Judge is ready to go now. Let's go.
Yankees fans needed a positive update on Sunday afternoon after DJ LeMahieu's thumb injury marred Saturday's win over the Red Sox (of course it did!), and we're happy to oblige.
Aaron Judge's latest injury issue was mysterious for a reason, it would seem — according to the man himself, it honestly wasn't that bad.
After just a few days off his feet, as well as the removal of the daily pressure of having to explain his status once the IL came into play, Judge spoke to the media on Sunday and confirmed he'll restart baseball activities on Monday.
In fact, he feels 100% already, and would like to play right now, please.
Wow.
In a 60-game season, this was likely an even tougher decision for Aaron Boone than usual. Deploy Judge immediately and risk the consequences of complications? Let him sit and sort it out for a few days while playing short-handed? Or be safe, give him 10 days off his feet, and bring in reinforcements?
With a roster this strong, and with stars like Clint Frazier and Mike Tauchman laying in the weeds, it probably wasn't terribly stressful for Boone to forcibly remove Judge from the action for 10 days, even knowing full well he might be derailing his slugger's short-season MVP campaign in the process.
At the very least, this is a much better argument to be having than, "Did Boone cost himself his job by getting Judge re-injured?" The big man gets a breather, plus an opportunity to discuss different preventative measures for the Tampa Bay turf with his teammates. Win-win!
The Yankees can't get cocky in 2020, but with a shortened season and a deep-as-hell lineup, it's always better to err on the side of caution in 2020.
If Judge misses the minimum and comes back whole, that's the ideal scenario, and we'll forgive the IL snafu — as long as Boone is more forthcoming with the media moving forward.
Perhaps it really was nothing on Tuesday night, in normal circumstances, and the team played it safe-as-hell? Seems that way.