Yankees: Interview with NYY UDFA Pitcher Carson Coleman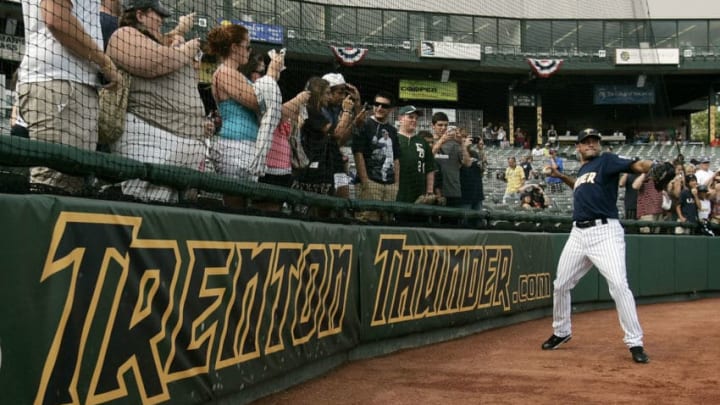 TRENTON, NJ - JULY 2: Derek Jeter #2 of the New York Yankees warms up before the start of his minor league rehab start with the Trenton Thunder in a game against the Altoona Curve on July 2, 2011 at Mercer County Waterfront Park in Trenton, New Jersey. Jeter is set to rejoin the Yankees in Cleveland on Monday in his return from a calf injury. (Photo by Rich Schultz/Getty Images) /
On Tuesday, the Yankees signed undrafted free agent right-handed pitcher Carson Coleman to a minor league contract.
Coleman, 22, pitched three seasons at the University of Kentucky, spending the summer of 2019 with the Brewster Whitecaps in the Cape Cod League, which has been a feeder for the NYY in this interrupted summer of 2020.  He posted a 4.19 ERA and struck out 81 batters in 53.2 innings during his collegiate career.
"Kentucky helped me grow into the man I am today," Coleman stated during an online interview.  "And I'm so grateful for that.  My parents are my biggest role models and have set the foundation for me well."
That's true not only in life, but in baseball.  As a child, Coleman's favorite teams were the Reds and Rays — his parents' favorite clubs.  In fact, Coleman was drafted in the 33rd round of the 2019 MLB Draft by Tampa Bay.  However, now the 22-year old right-hander is a member of the Yankees' farm system.
"When I think of the Yankees, I think of the best," he said.
So, what can Yankee fans expect of Coleman once he begins his minor league career?  All 49 of his college games came in relief, but he is "ready to be in any role" for New York.  During a COVID-19-shortened 2020 season, Coleman struck out 13 batters and allowed only one walk in 5.2 innings.
"I'm a fastball, slider, changeup guy," Coleman stated.  "My fastball is 92-95 miles per hour, while my off-speed pitches are in the low 80s."
Coleman's favorite player in recent years was Jose Fernandez because of his "passion for the game."  Bronx Bomber fans can expect a similar effort from the young right-hander.
"Baseball was always just my first love…." he said.  "I want fans to know I'm a loving and giving guy and will compete my heart out every time I'm out on the mound."