Yankees: Newest MLB return rumor an intriguing one for the bombers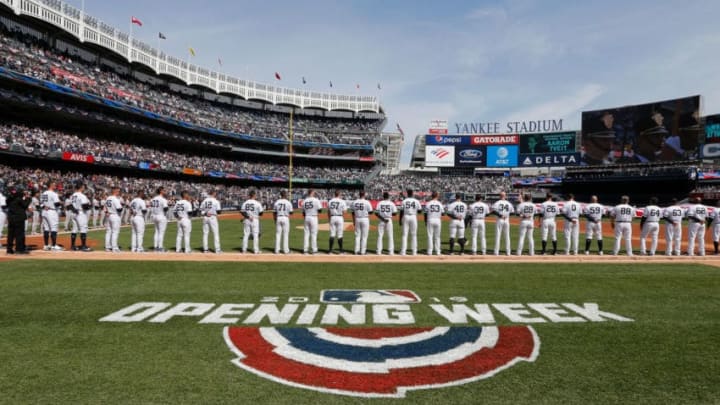 New York Yankees opening day (Photo by Jim McIsaac/Getty Images) /
We want baseball. We want to be able to watch the New York Yankees. It's been a tough month and a half for sports fans in general. It's been nearly seven weeks since sports were shut down amid the coronavirus outbreak that has gone worldwide. There's only so much NFL Draft coverage one can take.
Since mid-March when Major League Baseball shut down Spring Training, there have been many scenarios that have been mentioned and discussed by MLB and the Players Association. Of all the different scenarios, the most intriguing one was reported by Bob Nightengale of USA Today on Tuesday.
Nightengale reported that MLB is looking to start a 100-game season in late June or early July. MLB would also do away with the three divisions in both the American and National League and create three 10-team divisions based on geography. The best part of that scenario would have MLB games possibly in teams ballparks, albeit and rightly so with no fans.
The Yankees would be in the East under the realignment with the New York Mets, Boston Red Sox, Baltimore Orioles, Toronto Blue Jays, Tampa Bay Rays, Miami Marlins, Philadelphia Phillies, Washington Nationals, and Pittsburgh Pirates.
We are in unprecedented times with COVID-19. Everyone's health and safety is a top priority. If it can work out, even in some form, great. If not, then it's understandable.
However, IF baseball is able to be played and in MLB parks instead of minor league ballparks, then that's certainly ahead of the thinking from a few weeks ago. Gerrit Cole on the mound in the Bronx is something that wouldn't have been considered two weeks ago.
If this or any scenario is going to work, there obviously needs to be more testing and more testing needs to be available for everybody. New York and Boston have been hit with incredible infected numbers and those numbers have not even gone down enough for states to lift stay-at-home advisories.
Nightengale also reported that under this scenario the playoffs would go deeper into the fall, possibly to late November or December. Teams would obviously need an extended Spring Training back at their facilities in Florida and Arizona for three to four weeks and hope everything goes good enough to move forward with a season.
Theories and new ideas are floated out weekly about the return of baseball. The time has to be right and the conditions have to be right for everyone to stay healthy. The last thing MLB or anybody else needs is another outbreak because the time wasn't right.