New York Yankees: 50 greatest players of all-time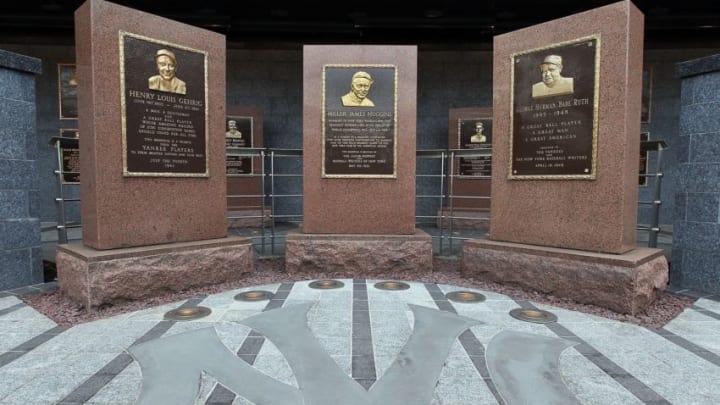 NEW YORK - MAY 02: The monuments of (L-R) Lou Gehrig, Miller Huggins, and Babe Ruth are seen in Monument Park at Yankee Stadium prior to game between the New York Yankees and the Chicago White Sox on May 2, 2010 in the Bronx borough of New York City. The Yankees defeated the White Sox 12-3. (Photo by Jim McIsaac/Getty Images) /
From 1949-62, the Yankees won nine World Series titles and 11 American League pennants.
During that stretch, there was just one player who was there for all of it — Lawrence Peter Berra.
Yogi Berra signed with the Yankees for a $500 bonus in October 1942 at the age of 17 and made his big-league debut in September 1946.
He shared the catching duties in 1947 before taking the job over in 1948. While he spent some time in the outfield late in his career, Berra was the primary guy behind the plate for the dynasty years.
He was a three-time AL MVP, winning in 1951 and then back-to-back in 1954 and 1955. He never led the league in any major category and at 5-foot-7 and 185 pounds hardly fit the profile of a superstar.
But that's exactly what Berra was. He drove in 100 or more runs five times in 18 years with the Yankees, added three more top-three MVP finishes to his three wins (second in both 1953 and 1956 and third in 1950)  and was the engine that drove the dynasty.
He was an 18-time All-Star and in postseason play batted .274/.359/.811 in 75 games, with 12 homers and 39 RBI to go with 41 runs.
Berra slugged with precision, though, striking out 414 times in 8,359 plate appearances in his career.
He retired after the 1963 season to accept the managerial job with the Yankees, finishing with a .285/.348/.830 slash line with an OPS+ of 125 and 358 home runs, 1,430 RBI and 1,174 runs.
He piloted New York to the pennant in 1964, but was fired after the Yankees lost in seven games to the St. Louis Cardinals. Berra returned in 1984 to manage again, but was fired just 16 games into the 1985 season. He also managed the New York Mets to a World Series appearance in 1973.
Berra joined the Mets in 1965 as a player-coach, retiring as a player in May of that year, but remained with the club as a coach until getting the managerial job after the death of Gil Hodges in April 1972.
He returned to the Yankees as a coach in 1976 and stayed until 1983, when he was again named manager. Berra would later coach with the Houston Astros from 1986-89.
He was inducted into the Hall of Fame in 1972 and died Sept. 22, 2015 at the age of 90.