Yankees announce Spring Training non-roster invitees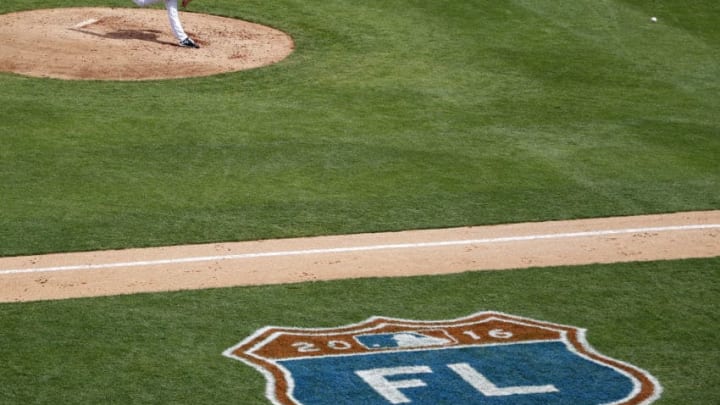 TAMPA, FL- MARCH 05: Joe Espada /
Now just 11 days from the official start of Spring Training, the Yankees announced 20 non-roster invitees, which include some of the games top prospects.
We're almost there. After a long, arduous winter, only 11 days separate us and Yankees pitchers and catchers reporting to camp.
So on Friday morning, the organization released the names of 20 non-roster invitees that will head to Tampa in hopes of securing a hard-to-come-by 25-man roster spot.
Along with each member of the 40-man roster making the trip to Florida, the locker room will be a crowded place until the initial round of cuts are made, soon after Grapefruit League play opens on Feb 23 against the Tigers.
Highlighting some of the Baby Bombers getting the call to workout with the returning members of a Yankees' team that fell one game shy of  World Series berth include top pitching prospects Justus Sheffield, Chance Adams, Dillon Tate and Arizona Fall League standout Cody Carroll.
As for the brightest non-roster positional players, Estevan Florial, Nick Solak and Kyle Holder will be in attendance.
Here's who else you can expect to see in camp:
Infielders: Danny Espinosa and Jace Peterson
Pitchers: Cale Coshow, Raynel Espinal, J.P. Feyereisen, David Hale, Brady Lall, Taylor Widener and Wade LeBlanc
Catchers: Francisco Diaz, Erik Kratz, Chace Numata and C Jorge Saez
This offseason, Espinosa, Peterson, Kratz and Hale signed minor league contracts with an invite to Spring Training. However, it will be an uphill battle for any of the four to break camp with the big league team.
Obviously, getting an early opportunity to watch reigning AL Rookie of the Year Aaron Judge and NL MVP Giancarlo Stanton is exciting in itself, but the real reason I'll attend a number of Spring Training games is to watch guys like Gleyber Torres, Miguel Andujar and Clint Frazier leave their indelible mark.
As if we needed any more reason for Yankee baseball to hurry up and get here, Mike Mazzeo of the New York Daily News recently spoke to a scout who gave his birdseye account of some of this springs hottest young players.
On Andujar:
"I think he can be really special. He projects as an eventual middle-of-the-order bat with power."
On Torres:
"He doesn't really profile at third base, but he will hit and he has good instincts and feel for the game."
On Adams:
"He's an aggressive bulldog who pounds the strike zone. His fastball is a little true though he does locate pretty good and he's got a pretty good breaking ball."
On Florial:
"He's a five-tool guy, a potential 30-30 guy. He's so exciting, has incredible upside and plays hard."
On Sheffield:
"He's taken tremendous strides, he's extremely athletic, he just needs to improve his fastball command."
Next: State of the system: Third Base
On Abreu:
"He's got electric stuff, four pitches, he just needs to be able to command and locate them."
On Widener:
"I really like him. He came out of nowhere in a way. His command and pitchability really improved."