The Yankees ten best prospects still playing in the minors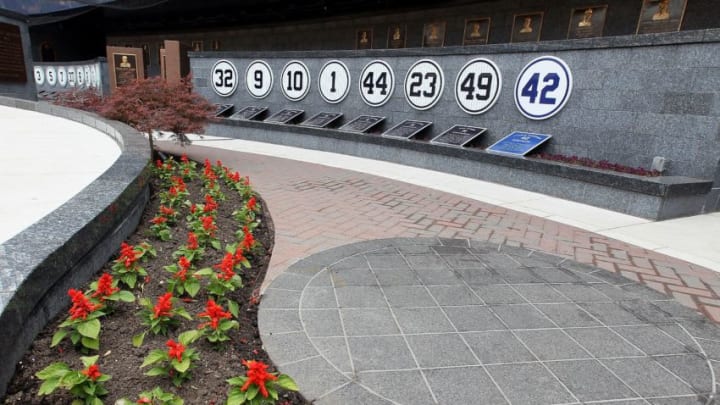 (Photo by Jim McIsaac/Getty Images) /
(Photo by Jared Wickerham/Getty Images) /
Solak was drafted last year, along with Rutherford, and is proving to be everything he promised. Nick is 22 and slashed .380/.474/.576 in his last year in college (Louisville). He followed that up with a strong showing in the extremely competitive Cape Cod Summer League, hitting .329 with a .438 OBP; both were top five in the league.
His first year with the Yankees was no different. Nick was assigned to SI, where he got 240 AB's and hit .321/.412/.421. That's a great year, but he was 21, older for a position player at SI.
However, the Yankees saw enough of him to advance him all the way to High-A Tampa. Again, Solak has responded. He is currently slashing .306/.406/.459 over his 268 at-bats. Nick has always projected as a great line drive hitter, and he has not been slowed down yet.
The Runner Stumbles
But Nick has two stumbling blocks to deal with, and they dovetail together. One is that he does not project as a power hitter, and two he plays second base. That doubles the problem because teams expect second to be a major power position. And he is not a great defensive player.
One problem might fix itself. You can see his SLG has improved from last year, with roughly the same number of AB's. He hit three home runs all of last year but has seven so far this year. Solak would not be the first player who developed his power late.
And the other problem is also easy to solve. Solak is neither good enough defensively to play a premier defensive position or strong enough to play a premier power position. But he does play several positions well. That sounds like a super-utility player to me. And a good one.
Solak right now looks like a better version of Tyler Wade. One of the intangibles that separate Wade is his character and baseball IQ. He needs those to go along with his good but not exceptional skills. Nick is described repeatedly as hard-nosed and gritty. That, along with his high average and contact rate, should put Solak on the Yankees radar, either as a player or trade bait.
Rankings are hard and deciding where to put Enns was one of the most difficult choices. I recently wrote about Enns when he returned from the DL so that I won't write as much here.
Instead, I will sum it up. Enns has been in the system since 2012. In no season has he posted an ERA even at 3.00, let alone above it. In 2016, he pitched 135 innings between Trenton and Scranton. He finished the year with a 1.73 ERA (1.17 WHIP), with a 1.52 ERA in his 65 Triple-A innings. Those are the numbers of an ace.
But Enns has issues, and the first is health. He has only pitched five games this year, out on the DL from early April to late June. The other problem, at least for some evaluators, is that he is not a high-mph pitcher. And while that doesn't bother me, it might bother the Yankees.
However, Enns has the track record and is performing at a high level at Triple-A. The Yankees will take a look at him later this year. That makes him number seven on this list, right behind…