The Yankees ten best prospects still playing in the minors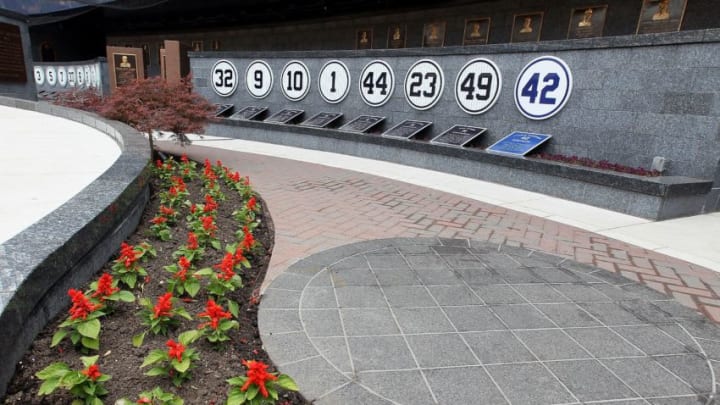 (Photo by Jim McIsaac/Getty Images) /
The Yankees youth movement is on full display, for better or worse. The team has called up, and either lost or sent down, some of the best talent in the system. But a deep system means lots of talented players. Here are the ten best players who are still working down on the farm.
The Yankees have a ton of talent in the system. But prospect rankings are subjective and slow to change. Look at the rankings after the 2015 season. Gary Sanchez was not in the top 100, was the Yankees fifth best prospect, and only the eighth-ranked catching prospect in the game. Rob Refsnyder was considered more promising.
And Ben Gamel was only the Yankees 28th best prospect. He went on to shine at Triple-A, win 2016 International Player of the Year and get traded to Seattle, where he is playing his way into consideration for a second place in the AL Rookie of the Year voting.
So, instead of looking at other arbitrary rankings, I've created my own. I admit I have not seen any of these players in person, but I don't believe Keith Law sees them all either. And of course, I have my own criteria for consideration.
A Lot of Talent Left Off
First, no one who is currently on the Yankees can be on this list. That keeps Clint Frazier, Tyler Wade, and Ben Heller from consideration. And no one currently on the DL can make the list. How can you be one of the best players if you're not actually playing?
That means that Dustin Fowler, Gleyber Torres, Albert Abreu, Greg Bird, Chris Gittens, Ronald Herrera, and Justus Sheffield were ineligible; Tyler Austin is both on the Yankees and the DL.
And there was an age consideration. Ben Ruta is doing a great job at Charleston, but he is 23. Ditto for Zack Zehner, who is 24 at Trenton. These two are likely doing so well because they are bigger with more experience than the players around them.
Likewise, I considered number of at bats. Both Dermis Garcia at Pulaski and Wilkerman Garcia at Staten Island have been playing a lot better but neither has had even 100 AB's.
Baseball is about Consistency
And there is one name absent from this list: Jorge Mateo. He has been playing every bit like the superstar he has the talent of, but it still amounts to a great two weeks. Is he going to revert to form the next time he feels slighted? I hope this is the player we are going to see (traded) from now on, but the sample size is too small.
That is a lot of talent. It is worth pausing to note just how many really good young players are in the Yankees system right now. There are so many, in fact, that before I share the ten best, here are players 20-11.