Yankees: Four Off Season Mulligans For GM Brian Cashman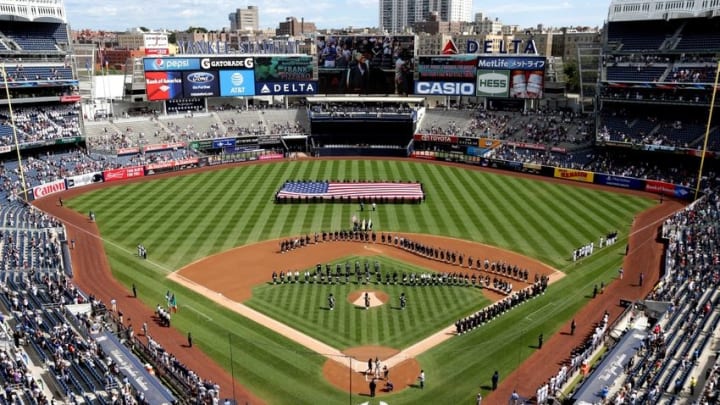 Andy Marlin-USA TODAY Sports /
Yankees Stadium: Bill Streicher-USA TODAY Sports /
The Yankees offseason can best be described as unspectacular. No harm, no foul. But what if there were mulligans in baseball? What would the Yankees, and more specifically, Brian Cashman, have done differently?
The Yankees ended the 2016 season on a high note. They finished five games over, missing the playoffs by just a hair. Midseason moves that brought in fresh young talent were being heralded and Yankees fans were on their feet applauding the new direction the team was taking. Alex Rodriguez became a memory, and Mark Teixeria suited up for the final time.
Didi Gregorius emerged as a potential All-Star for years to come, and Gary Sanchez lit up the night sky with home run after home run. Mashiro Tanaka put forth a CY Young type season, and more importantly perhaps, finished the year healthy with no setbacks. C C Sabathia showed flashes of his old brilliance and, for the most part, he too remained healthy throughout the season.
For the Yankees, the offseason presented an opportunity to fine tune the team by reloading the bullpen and adding a proven starter to the rotation. If an opportunity to trade Brett Gardner and Jacoby Ellsbury came along, Brian Cashman was in a mood to listen. Ditto Chase Headley.
Cashman acted quickly by corralling the services of Aroldis Chapman for five years and $80 million. He followed that up by signing Matt Holliday to a one-year deal. Both moves were widely applauded, and Cashman continued to fly high.
Then, Cashman made an abrupt U-turn, announcing that he was done, and the 40-man roster the Yankees had would be the same one they would have on Opening Day. This led to some head scratching, especially since the hole(s) in the starting rotation looked like an abyss and had yet to be addressed. But generally speaking, Cashman had enough chips in his pocket from all the good he had accomplished, and criticism was muted when it existed at all.
Now, with Spring Training only days away, it might give cause to wonder if Cashman has any regrets, and if he had a few mulligans, what might he do differently. Wikipedia Games describes a mulligan as follows:
"A mulligan is a second chance to perform an action, usually after the first chance went wrong through bad luck or a blunder. Its best-known meaning is in golf, whereby a player is informally allowed to replay a stroke, even though this is against the formal rules of golf."
Now, General Managers can be stubborn and bull-headed about the decisions they make. So, I would guess that if we asked Brian Cashman about his mulligans this offseason, we wouldn't get much of answer. So, I'll do it for him. Here, then, are the top four Yankees offseason mulligans.