Yankees: David Cone Deserved More Than "One And Done"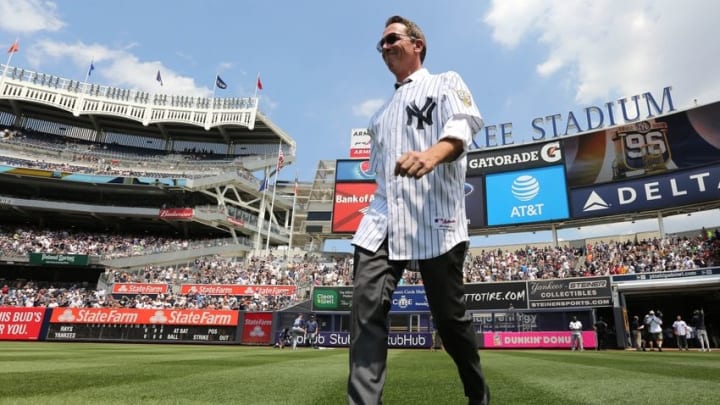 Mandatory Credit: John Munson-Pool Photo via USA TODAY Sports /
The Yankees David Cone deserved a whole lot more than being "one and done" when he was eliminated from consideration for the Baseball Hall Of Fame for not getting the minimum number of required votes. In fact, David Cone deserves a whole more, period.
Former Yankees pitcher David Cone and current analyst for the YES network, fell victim to the overall "lack of numbers" thing that seems to matter so much for election to the Hall of Fame. Like the fate of Jorge Posada this year (probably, Cone was eliminated from future consideration the first year he appeared on the ballot, garnering only 3.9% of the tallied votes.
Apparently, the writers went by the book that says you need to have X amount of wins as a pitcher or Y number of career strikeouts. And generally speaking, that usually a good guide. But as with anything, there are exceptions to any rule, and David Cone is an exception to that rule of thumb.
Following are the kind of numbers that are considered for induction into the HOF: 194-126 won-lost record (a .606 winning percentage), 3.46 ERA, a 8-3 overall record in the postseason, including a 2-0 record in five World Series with a 2.12 ERA. Good, they say, but not good enough.
But in contrast to that. Here's a record put together by Sports Illustrated of what we'll call his "extraordinary accomplishments":
""Cone was the 1994 AL Cy Young winner while with the Royals. The hard-throwing righty was an October staple who pitched for eight postseason teams during his 17-year career (1986 to 2001, '03), starting with the 1988 Mets, for whom he went 20-3 with a 2.22 ERA. Late in the 1992 season, he was dealt to the Blue Jays, whom he helped beat the Braves in that year's Fall Classic; he also led the majors in strikeouts that year with 261, after having led the NL in both 1990 and '91. A two-year detour to his hometown of Kansas City, with whom he had started his professional career, followed. He won the Cy Young for going 16-5 with a 2.94 ERA during the strike-shortened season, and after being traded back to the Blue Jays and then the Yankees in 1995, pitched for the New York's '96, '98, '99 and 2000 champions; he posted a 2.12 ERA in 29 2/3 innings over his five World Series, and threw in a perfect game in 1999 for good measure.""
And If You Want To Keep Going……
Other Points of Note: Top Ten MVP Finishes:
Other Top Ten Cy Young Award Finishes: (Won The 1994 AL Cy Young)
(NL: 1988, 3rd), (AL: 1995, 4th), (AL: 1998, 4th) & (AL: 1999, 6th)
ML Hutch Award (1998)
7 Top Ten Finishes (Earned Run Average)
(NL: 1988, 10th) & (AL: 1994, 9th)
5 Top Ten Finishes (Wins)
4 Top Ten Finishes (Innings Pitched)
11 Top Ten Finishes (Strikeouts)
7 Top Ten Finishes (Complete Games)
More from Yanks Go Yard
Is David Cone one of the all-time great pitchers in the game? No, but he was damn good. And he was at least good enough to merit enough votes to meet the 5% minimum required to remain on the ballot in future years.
David Cone can also be measured in another way, which is to ask, did he dominate hitters in the era that he pitched, and was he intimidating to batters? I don't know, but he sure looked like a bulldog out there coming at hitters from all sorts of angles and speeds. In the vernacular of today, players would say his stuff is "downright nasty".
Next: Yankees: Ways They Irritate Their Fan Base
He's more than a middle of the road guy, and we could spend all day going through the list of players who are in the Hall of Fame but maybe shouldn't be. Why bother? But at very least, David Cone deserves more recognition than he's been given, and the writers made a huge mistake on this one.