Yankees Lose Four Prospects in 2016 Rule 5 Draft
The New York Yankees lost four prospects in the 2016 Rule 5 Draft on Thursday, most notable catcher Luis Torrens, who was ranked 17th in the team's system by MLB Pipeline prior to being selected by the Cincinnati Reds.
I guess the New York Yankees should take it as a compliment that so many teams were lining up Thursday to poach talent from their brimming farm system. Not only were four Yankees minor leaguers selected in the 2016 Rule 5, they all went within the first 13 picks.
For the second consecutive year, the Cincinnati Reds jumped all over an unprotected top prospect from the Bombers' system, taking 20-year-old catcher Luis Torrens with the second pick of the draft.
Torrens was easily the best prospect the team left exposed to the Rule 5 this year, banking on the fact that he wouldn't last an entire season on an MLB club's active roster since he hasn't played above Low-A.
That could certainly still turn out to be the case, as the Reds ultimately returned last year's selection, outfielder Jake Cave, back to the Yankees organization, despite the fact that Cave was a much more polished player who was pretty universally seen as close-to-ready for a big league fourth outfielder job.
Catchers are very rarely taken in the Rule 5 draft because it is the most intellectually demanding position. Many young backstops don't come into their own until age 26 or 27 because of this, so it does seem like an unusual gamble by the Reds taking Torrens.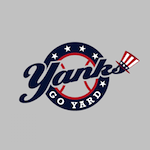 Want your voice heard? Join the Yanks Go Yard team!
Write for us!
At the same time, there is plenty of upside there. He's already close to a finished product defensively. He's athletic, a good receiver, and has thrown out 41% of potential base thieves in his professional career.
The bat shows a lot of potential, but its hard to see him contributing much at the plate in the majors next year after putting up a .230/.348/.317 slash line in 164 Low-A plate appearances during the 2016 campaign.
The Yankees somewhat predictably also lost three young arms from their stable of talented minor league relievers: Tyler Webb, Tyler Jones, and Caleb Smith. These guys are more likely to stick than Torrens, but also hurt considerably less because of the club's depth in that area.
Update: Luis Torrens has been swapped to the San Diego Padres, while Caleb Smith was dealt to the Chicago Cubs shortly after the draft.