Yulieski Gourriel Scheduled to Work Out for Yankees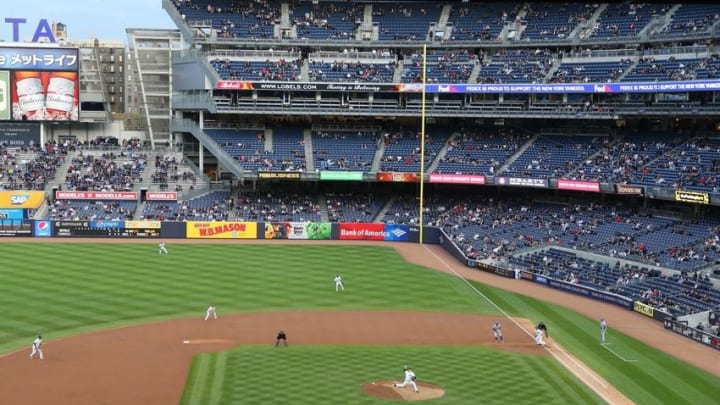 May 10, 2016; Bronx, NY, USA; General view of the shift played by the New York Yankees infield against Kansas City Royals first baseman Eric Hosmer (35) during the first inning at Yankee Stadium. Mandatory Credit: Brad Penner-USA TODAY Sports /
Free agent infielder Yulieski Gourriel, once one of the top stars of the Cuban National Series, will have a private workout with the New York Yankees either this weekend or early next week according to George A. King III of the New York Post.
Yulieski Gourriel has long been connected to the New York Yankees after he made his preference to play for the club public knowledge. While it's unlikely he'll take much of a discount to put on the pinstripes, the opportunity to play alongside his favorite player Alex Rodriguez, as well as friend and fellow countryman Aroldis Chapman, certainly could be enticing.
There have been mixed reports as to the Yankees level of interest in Yulieski Gourriel. King has previously reported that New York was indeed looking into the possibility of signing him, while Brendan Kuty of NJ.com cited a source with "knowledge of the team's thinking" who posited that the newly cost-conscious Yankees would not be willing to spend the money to sign Gourriel.
The fact that the Yankees are holding a private workout for Yulieski Gourriel is interesting, but doesn't necessarily signal serious interest on their part. They have brought the majority of big-name Cuban free agents to Tampa for a look at them in recent years, and generally haven't been very active on that market. More than likely this is Brian Cashman and Co. doing their due diligence on a high profile player.
Yulieski Gourriel would very likely provide a solid bat to plug into the middle of the floundering Yankees lineup for the next few seasons, but as many have pointed out, they don't really have anywhere to play him with Greg Bird, Starlin Castro, and Chase Headley slotted into Gourriel's natural positions for 2017 and beyond. At 32, it's also fair to wonder how long it will be before Gourriel enters his decline years. Given that he's a year removed from professional competition, his immediate impact is also a major question mark.
One factor that may end up working in the Yankees favor is that Yulieski Gourriel may not command the exorbitant salary many pundits initially assumed. Dave Cameron of Fangraphs recently concluded that Gourriel could get less than the three years $38 million the Nationals gave Daniel Murphy. Cameron hypothesizes that the recent disastrous contracts given to Cuban stars Rusney Castillo, Hector Olivera, and Yasmany Tomas (who all landed commitments north of $60 million) could cause teams to shy away from such sizable deals for players from that market.
If that's the case, the Yankees could conceivably see Gourriel as a potential bargain if they like what they see in their upcoming workout. It remains a longshot that ownership will green light any expensive veteran additions given their recent cost cutting, especially with the team's mediocre play recently, but if his price falls, a Gourriel addition remains within the realm of possibility.