New York Yankees: Giancarlo Stanton trade could haunt the team for years
It sounded good at the time. Yankees general manager Brian Cashman had the opportunity to acquire the reigning National League MVP and the MLB's leading home run hitter from the Miami Marlins during the winter of 2017.
Stanton was coming off a career-year in Miami before he was traded to New York. He clubbed 59 home runs and drove in 132 runs at 27 years old. He had a slash line of .281/.376/.631 with an incredible 1.007 OPS. He was in the midst of his prime, so when the Marlins were willing to accept a trade package of Starlin Castro and a pair of lower-level prospects it was a no-brainer for the Yankees to go through with the deal.
Stanton signed a 13-year, $325 million contract with Miami in 2014. In his first two years with the Yanks, he made a combined $51M and this season he's set to make another $26M. With MLB shutting down baseball operations for all the teams amid the coronavirus outbreak, it remains to be seen how much baseball, if any, will be played in 2020.
Things could get interesting for Stanton and Yankees this winter since he has a player option to opt-out of his deal each offseason from 2021 through 2027. Although it's highly unlikely he will because he'd be absolutely crazy to exercise that option and test the free-agent waters anytime soon.
Mostly because of injuries, Stanton has failed to live up to expectations during his first two years in the Bronx. It's only been two years so he still has plenty of time to turn things around, but you can't help but wonder if this might end up being a deal that will haunt the Yankees and GM Brian Cashman for years to come. I don't think it would surprise anyone at all if it already is.
One way to make sure that doesn't happen is winning. Mainly winning multiple World Series titles with Stanton as a key contributor. In his first year in the Bronx in 2018, Stanton played in 158 games with 38 home runs and 100 RBI. Finishing with a .266 batting average, he struck out a staggering 211 times in 617 at-bats.
The Yankees won 100 games but finished second in the American League East to the Red Sox. They won the AL Wild Card game 7-2 over the Oakland Athletics and Stanton hit a solo home run, but it came late in the game when the Yanks were already up big. In the Divison Series against the Red Sox, Stanton went 4-for-18 with six strikeouts. Most of his strikeouts came in big spots with RISP so it wasn't a good series for Stanton at all in his first taste of October baseball.
Last season, Stanton was a non-factor. He suffered a bicep injury in the opening series of the season against the Baltimore Orioles which caused him to miss almost 70 games. After he returned from that injury in June, Stanton suffered a knee injury in his sixth game back and missed another 78 games.
Stanton appeared in just 18 games last season. He rushed himself back in time for the playoffs, but in five postseason games, he went 3-13 with a home run between the Division Series and ALCS. He played every game against the Twins, but in Game 1 against Houston, he strained his groin beating out an infield single and missed four of the next five games.
This spring, Stanton got injured once again, this time suffering a Grade 1 calf strain while doing outfield drills. At the time MLB was shut down on March 12, there was no doubt he was going to miss Opening Day and start the season on the IL. With the season being delayed now he should be healthy whenever play resumes.
Again, there's still time for Stanton and the Yankees to prove that the deal three winters ago was well worth it. When and if Major League Baseball returns this season, Stanton needs to stay healthy and produce at an All-Star level.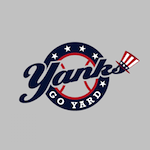 Want your voice heard? Join the Yanks Go Yard team!
Write for us!
He also needs to produce in October and help the Yankees win. If all three things happen, then there will be a different feeling about the investment Cashman made when we look back years from now. If not, this trade could go down as one of the biggest mistakes in franchise history.