New York Yankees: 50 greatest players of all-time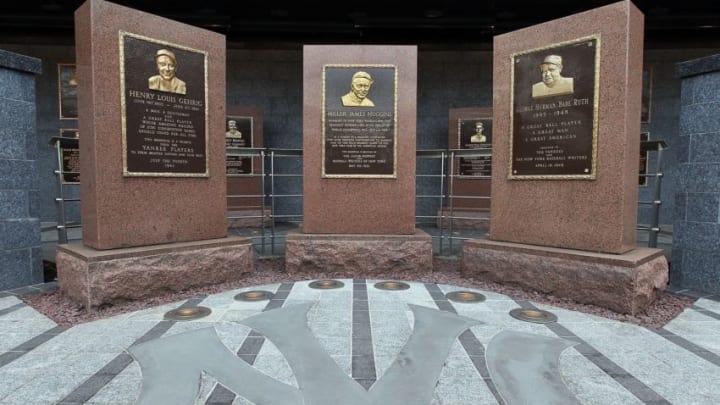 NEW YORK - MAY 02: The monuments of (L-R) Lou Gehrig, Miller Huggins, and Babe Ruth are seen in Monument Park at Yankee Stadium prior to game between the New York Yankees and the Chicago White Sox on May 2, 2010 in the Bronx borough of New York City. The Yankees defeated the White Sox 12-3. (Photo by Jim McIsaac/Getty Images) /
Babe Ruth was at the forefront of baseball's rapid change from a game of speed and small ball to a game of swinging for the fences with the advent of the live ball in 1920.
That coincided with the arrival of Ruth with the Yankees, who acquired him from the Boston Red Sox for $100,000 cash in December 1919.
Ruth had transitioned from a full-time pitcher and sometimes outfielder in 1919 with the Red Sox into more of a full-time position player to take advantage of his powerful bat.
He led the American League in homers in 1918, hitting 11 long balls in just 95 games, and followed that up with a record 29 in 1919.
Had he remained on the mound, it's entirely possible Ruth would have been a Hall of Famer. He hurled nine shutouts in 1916 while winning 23 games and leading the AL with a 1.75 ERA. But his power was too alluring to only use him every fourth or fifth day.
More Articles About Babe Ruth:
After joining the Yankees, Ruth would make just five more mound appearances in his career.
But wow, did he hit the ball.
His .690 slugging percentage, 1.164 OPS and 206 OPS+ are still the highest in baseball history.
Ruth extended his single-season home run record to 54 in 1920 and topped it again in 1921 with 59.
In 1927, he clubbed a then-record 60 home runs.
In spite of his heroics, Ruth only won the MVP award once, in 1923, when he just missed a Triple Crown. He led the league with 41 homers and 130 RBI, but his .393 average was second to the .403 posted by Harry Heilmann of the Detroit Tigers.
He had another near miss in 1924, when he won his only batting title by hitting .378 and led the league with 46 homers, just finished tied for second with 124 RBI behind the 129 of Goose Goslin of the Washington Senators.
Ruth played in the first two All-Star games in 1933 and 1934, but was released by the Yankees in February 1935.
More from New York Yankees All-Time Lists
In 15 seasons for New York, Ruth batted .349/.484/1.195 with an OPS+ of 209 to go with 659 homers, 1,978 RBI and 1,959 runs. His 714 home runs were baseball's most until the mark was broken by Hank Aaron in 1974.
In seven World Series with the Yankees, Ruth hit .347/.788/1.278 in 36 games, with 15 home runs, 30 RBI and 37 runs.
Ruth played his last game on May 30, 1935, for the Boston Braves and entered the Hall of Fame with its inaugural induction class in 1939.
In November 1946, Ruth checked himself into a Manhattan hospital with headaches and pain above his left eye. His diagnosis of cancer was never published in the newspapers of the day, according to the Society for American Baseball Research.
Next: New York Yankees: All-time greatest seasons by position
Baseball held Babe Ruth Day in April 1947, with honors at every park, and he made his final Yankee Stadium appearance on June 13, 1948. He died on Aug. 16, 1948, at the age of 53.