New York Yankees: 50 greatest players of all-time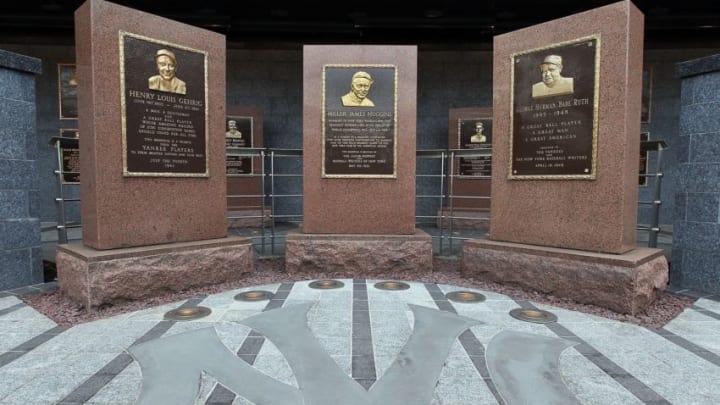 NEW YORK - MAY 02: The monuments of (L-R) Lou Gehrig, Miller Huggins, and Babe Ruth are seen in Monument Park at Yankee Stadium prior to game between the New York Yankees and the Chicago White Sox on May 2, 2010 in the Bronx borough of New York City. The Yankees defeated the White Sox 12-3. (Photo by Jim McIsaac/Getty Images) /
Mickey Mantle was just 19 years old when he broke spring training with the Yankees in April 1951, less than two years removed from signing with the club after his graduation from high school in Commerce, Oklahoma.
He struggled at first and was sent back to the minors for a spell, but when he returned, he put his stamp on baseball, even as he limped his way through the second half of his career and left everyone wondering how great he would have been had he stayed healthy more and partied less.
He played mostly in right field as a rookie next to aging great Joe DiMaggio and moved to center field the following season.
Mantle was named an All-Star in 1952, the first of 20 appearances in the Midsummer Classic, and in 1956 put together one of the greatest seasons ever.
He hit .353 with 52 homers and 130 RBI, winning the American League Triple Crown — just the 14th time in baseball history a player had led the league in all three categories — and rolled to the first of his three MVP awards.
Mantle repeated as MVP in 1957 and won it again in 1962 despite playing in just 123 games.
He led the AL in home runs four times and finished second in the MVP voting three times — 1960, 1961 and 1964 — and was third in 1952.
In 12 World Series appearances, Mantle hit .257/.374/.908 with a record 18 home runs to go with 40 RBI and 42 runs scored in 65 games.
Injuries took a toll late in his career. Mantle missed 39 games in 1962, 97 in 1963, 40 in 1965 and 54 in 1966 and limped to the finish line his final two seasons playing first base.
In 18 years, Mantle hit .298/.421/.977 with an OPS+ of 172 and 536 home runs (still the most by a switch-hitter in MLB history), 1,509 RBI and 1,676 runs scored.
He was inducted into the Hall of Fame in 1974 in his first year of eligibility.
Mantle's heavy drinking caught up to him. He sought treatment for alcoholism in 1993, but the damage was done. He was diagnosed with cirrhosis of the liver and liver cancer in 1994 and received a transplant on June 8, 1995, per the Society for American Baseball Research.
The surgery was a success of sorts, but Mantle died on Aug. 13, 1995 at the age of 63.