New York Yankees: 50 greatest players of all-time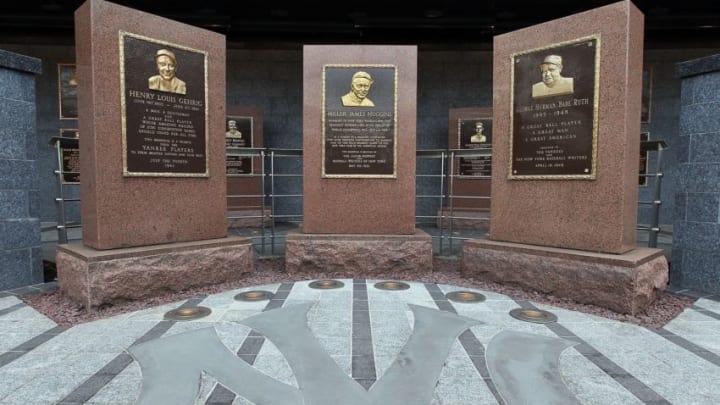 NEW YORK - MAY 02: The monuments of (L-R) Lou Gehrig, Miller Huggins, and Babe Ruth are seen in Monument Park at Yankee Stadium prior to game between the New York Yankees and the Chicago White Sox on May 2, 2010 in the Bronx borough of New York City. The Yankees defeated the White Sox 12-3. (Photo by Jim McIsaac/Getty Images) /
(Photo by Keystone/Hulton Archive/Getty Images) /
Bob Meusel came to the Yankees in 1919, when he was purchased from the Vernon Tigers of the Pacific Coast League, and he debuted in New York the following season as a third baseman/outfielder.
By 1921, he became entrenched in the outfield, playing right field for two seasons before moving primarily to left field the next seven years.
Nicknamed "Silent Bob," he became part of the famous Murderers Row lineups of the 1920s, leading the American League with 33 home runs and 134 RBI in 1925. He topped the 100 RBI plateau five times as a Yankee, including a career-best 138 in 1921.
Even for an era known for its offensive firepower, Meusel was a standout, with an OPS+ of 121 in 10 seasons with the Yankees. He hit .311/.358/.858 in 1,294 games as a Yankee, with 146 home runs, 1,009 RBI, 764 runs scored and 338 doubles.
In six World Series appearances, Meusel didn't fare quite as well, hitting .225/.291/.632 with one homer and 17 RBI in 144 plate appearances, helping New York to three World Series titles.
In October 1929, his contract was sold to the Cincinnati Reds and he played one season with the Reds and two more in the minors before retiring in 1932.
A Los Angeles native, Meusel died Nov. 28, 1977, in Downey, California at the age of 81.