New York Yankees: 50 greatest players of all-time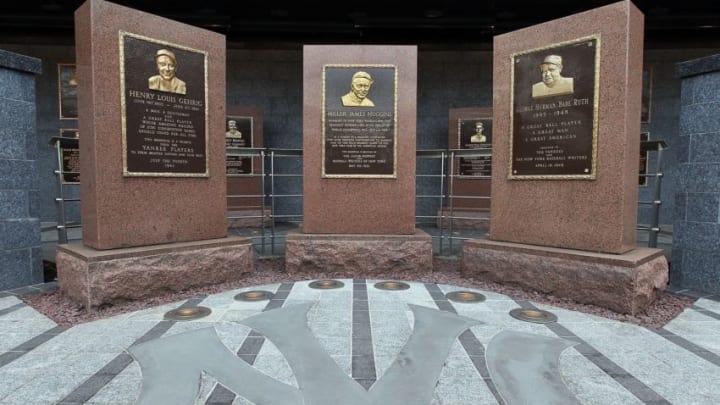 NEW YORK - MAY 02: The monuments of (L-R) Lou Gehrig, Miller Huggins, and Babe Ruth are seen in Monument Park at Yankee Stadium prior to game between the New York Yankees and the Chicago White Sox on May 2, 2010 in the Bronx borough of New York City. The Yankees defeated the White Sox 12-3. (Photo by Jim McIsaac/Getty Images) /
(Photo by Dave Sandford/Getty Images) /
Bernie Williams was the first of the vaunted "core" of the Yankees dynasty of the late 20th century to take his place, taking over in center field as a regular in 1993 after two years as a reserve and holding the job for more than a decade.
The Yankees signed the Puerto Rican prospect on his 17th birthday in September 1985 and he worked his way through the farm system slowly at first, getting his first call to the bigs in July 1991.
Williams' breakout season was 1996, when he added pop to his .300 average by belting 29 home runs and driving in 102 for a team that would win the first of its four World Series titles in a five-year span to close the millennium.
He went on to make five All-Star appearances and earn four Gold Gloves and won the American League batting title with a .339 average in 1998.
The dependable Williams hit a career-best 30 home runs in 2000 and had five seasons with 100 or more RBI to go with eight years in which he scored at least 100 runs.
He retired after the 2006 season at the age of 38 after a 16-year career as a Yankee. He hit .297/.381/.858 with an OPS+ of 125 and 287 home runs, 1,257 RBI and 1,366 runs scored.
A classically trained guitarist, Williams has released two jazz albums. The first, "The Journey Within," dropped in 2003 and reached No. 3 on the U.S. jazz charts. His second, "Moving Forward," was released in 2009 and climbed to No. 2 on the charts.
Williams was nominated for a Latin Grammy for "Moving Forward," which featured collaborations with Bruce Springsteen, Jon Secada and Dave Koz, per Williams' no-longer-maintained page on MySpace.
Williams fell off the Hall of Fame ballot in his second year of eligibility in 2013 after receiving only 3.3 percent of the vote.