New York Yankees: 50 greatest players of all-time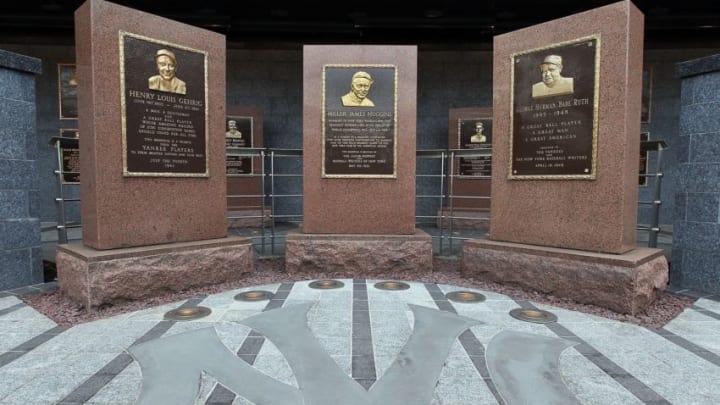 NEW YORK - MAY 02: The monuments of (L-R) Lou Gehrig, Miller Huggins, and Babe Ruth are seen in Monument Park at Yankee Stadium prior to game between the New York Yankees and the Chicago White Sox on May 2, 2010 in the Bronx borough of New York City. The Yankees defeated the White Sox 12-3. (Photo by Jim McIsaac/Getty Images) /
The Yankees purchased the contract of Lefty Gomez from the San Francisco Seals of the Pacific Coast League in August 1929 and what they got was one of the greatest postseason pitchers in history.
Gomez got his first call to the majors at the end of April 1930 and, as young pitchers often do, struggled. But when he returned for good to start the 1931 season, the Yankees had found a left-handed ace who marched to the beat of his own drummer.
Gomez led the American League in wins in 1934 and 1937, in winning percentage in 1934 and 1941, in ERA in 1934 and 1937 and topped the circuit in strikeouts three times.
A seven-time All-Star, Gomez was selected to start the first All-Star Game in 1933 and was third in the MVP voting in 1934.
But it was in the World Series where Gomez morphed from merely great to unbeatable.
Gomez started seven games over five World Series appearances and was 6-0 with a 2.86 ERA and 31 strikeouts in 50.1 innings, tossing four complete games.
He was no slouch in the regular season, either, going 189-101 with the Yankees in 13 seasons, with an ERA of 3.34 (125 ERA+) and 1,468 strikeouts in 2,498.1 innings, while completing 173 games and posting 28 shutouts.
With his fastball fading, his role diminished by the 1942 season, when he appeared in only 13 games, and he was released in January 1943.
Gomez was known for his wit as well as his arm. Late in his career, he was asked by a reporter about his declining fastball, per the Society for American Baseball Research:
"I'm throwing just as hard as ever. The ball's just not getting there as fast.""
The banter never really left. Gomez dabbled in show business during his career and spent some time as a minor-league manager in the Yankee organization.
When Neil Armstrong became the first man to walk on the moon in 1969 and NASA scientists puzzled over an unidentified white object on the surface, Gomez was quick to come up with an answer:
"I knew immediately what it was. It was a home run ball hit off me in 1937 by Jimmie Foxx."
Gomez was inducted into the Hall of Fame in 1972 by the Veteran's Committee and died from heart problems on Feb. 17, 1979 at the age of 80.