New York Yankees: 50 greatest players of all-time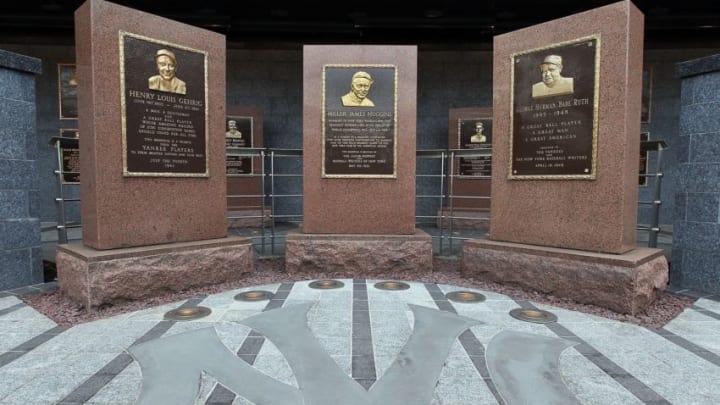 NEW YORK - MAY 02: The monuments of (L-R) Lou Gehrig, Miller Huggins, and Babe Ruth are seen in Monument Park at Yankee Stadium prior to game between the New York Yankees and the Chicago White Sox on May 2, 2010 in the Bronx borough of New York City. The Yankees defeated the White Sox 12-3. (Photo by Jim McIsaac/Getty Images) /
(Photo by Ezra Shaw/Getty Images) /
Jorge Posada didn't immediately become a star for the Yankees. Instead, he grew into the role, serving as a backup catcher and then splitting time with Joe Girardi for a couple of seasons before moving into the job full-time in 2000.
A native of Puerto Rico, the Yankees drafted Posada in the 24th round of the 1990 amateur draft out of Calhoun Community College in Alabama.
Posada reached the majors for the first time in September 1995, making an appearance as a defensive replacement, but didn't get his first at-bat until May 1996.
He stuck for good in the bigs as a backup in 1997 and the switch-hitter moved into a platoon role behind the plate in 1998.
His power stroke emerged with a 28-home run breakout season in 2000. In 2003, Posada finished third in the AL MVP voting after hitting .281/.405/.518 with 30 homers and 101 RBI.
Posada was a five-time All-Star and hit 11 home runs in 125 career postseason games, backstopping the Yankees to four World Series titles.
He played out his final contract in 2011 after playing primarily as a DH and retired at the age of 40 after parts of 17 seasons with the Yankees. He hit .273/.374/.848 with an OPS+ of 121, 275 homers, 1,065 RBI and 900 runs scored.
His No. 20 jersey was retired in August 2015, but he fell off the Hall of Fame ballot on his first year of eligibility in 2017 after receiving only 3.8 percent of the vote.