New York Yankees: 50 greatest players of all-time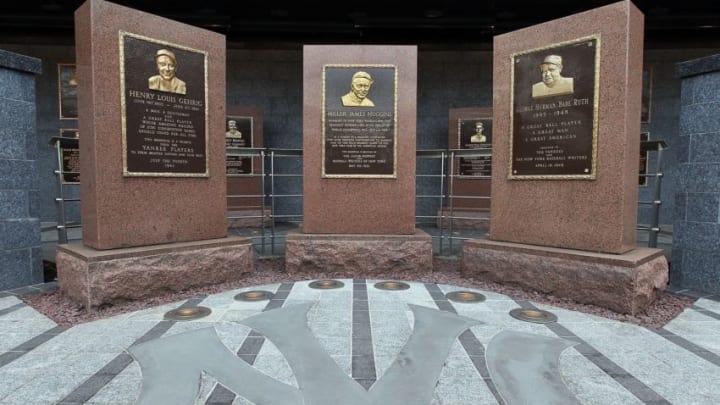 NEW YORK - MAY 02: The monuments of (L-R) Lou Gehrig, Miller Huggins, and Babe Ruth are seen in Monument Park at Yankee Stadium prior to game between the New York Yankees and the Chicago White Sox on May 2, 2010 in the Bronx borough of New York City. The Yankees defeated the White Sox 12-3. (Photo by Jim McIsaac/Getty Images) /
The Yankees signed San Francisco native Gil McDougald in the spring of 1948 and it wasn't long before he was a regular for a dynasty in the Bronx.
With regular infielders Jerry Coleman and Bobby Brown and prospect Billy Martin all off to the military with the outbreak of hostilities in Korea, the Yankees called up McDougald from Triple-A Kansas City for spring training in 1951.
He settled in, seeing regular time at both third and second base en route to earning AL Rookie of the Year honors after hitting .306/.396/.884 in 131 games with 14 homers and 63 RBI.
McDougald played mostly third base in 1952 and 1953, shuffled between second and third in 1954, took the regular second base job in 1955, added shortstop to his repertoire as a sort of everyday utiilityman from 1956-59 and primarily played third base in 1960.
He led the American League with nine triples and 19 sacrifice hits in 1957 and was a five-time All-Star with the Yankees. But a couple of incidents that season affected McDougald's future in baseball.
In the span of a week, McDougald — known for his scorching line drives — drilled Detroit Tigers right-hander Frank Lary with a liner and then slammed a line drive into the right eye of Cleveland Indians lefty Herb Score.
McDougald vowed to retire if Score lost the eye, according to the Society for American Baseball Research, and was disconsolate when Score's career faded quickly after the injury.
He was part of five World Series winners with the Yankees, notably going 9-for-28 with two homers and four RBI in 1958 as New York erased a 3-1 deficit to dethrone the Milwaukee Braves, who had beaten the Yankees the previous year.
He privately told management before the 1960 season it could be his last year, but he went public with his intentions that fall when he realized he could be left unprotected in the draft to stock new expansion clubs in Los Angeles and Washington.
The Angels chose McDougald, who turned down a two-year, $100,000 contract offer from owner Gene Autry and retired anyway. He spent a short time as a scout for the New York Mets and later was the head baseball coach at Fordham University from 1969-76.
Hearing loss affected him later in life, the result of an undiagnosed skull fracture sustained when he was struck by a Bob Cerv liner during batting practice in August 1955.
In 10 years with the Yankees, McDougald hit .276/.356/.766 with an OPS+ of 111 to go with 112 homers, 576 RBI and 697 runs scored.
He died Nov. 28, 2010, in Monmouth County, New Jersey at the age of 82.