New York Yankees: 50 greatest players of all-time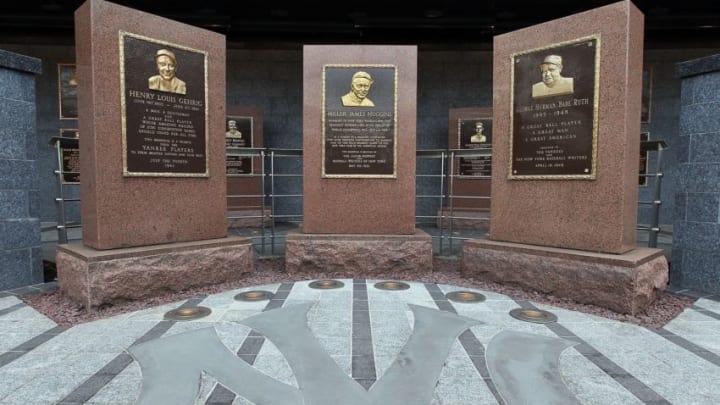 NEW YORK - MAY 02: The monuments of (L-R) Lou Gehrig, Miller Huggins, and Babe Ruth are seen in Monument Park at Yankee Stadium prior to game between the New York Yankees and the Chicago White Sox on May 2, 2010 in the Bronx borough of New York City. The Yankees defeated the White Sox 12-3. (Photo by Jim McIsaac/Getty Images) /
(Photo by Ezra Shaw/Getty Images) /
Right-hander Waite Hoyt was another member of the first Yankees dynasty clubs of the 1920s to find his way from Boston to the Bronx. The Yankees acquired Hoyt from the Red Sox in an eight-player trade in December 1920.
He became a fixture on the Yankee staff for most of the next 10 years, leading the American League with 22 wins and a .759 winning percentage in 1927, posting the AL's top WHIP in 1923 at 1.228 and, for good measure, topping the circuit with eight saves (before it was an official stat, of course) in 1928.
After back-to-back 20-win seasons in 1927 and 1928, Hoyt's effectiveness waned a bit and he was traded to the Detroit Tigers in May 1930 as part of a five-player swap.
In parts of 10 seasons with the Yankees, Hoyt notched a 3.48 ERA (115 ERA+) and a 1.336 WHIP in 2,272.1 innings, striking out 713 while working in 365 games, starting 276 and completing 156. Hoyt pitched 15 shutouts and recorded 29 saves.
His career, as it turned out, was far from over. He pitched until 1938 with five clubs, primarily the Pittsburgh Pirates.
Hoyt was a Brooklyn native and joined the New York Giants as a 16-year-old in 1916,  making his big-league debut two years later.
Traded to Rochester of the International League in January 1919, he resurfaced in the big leagues with the Red Sox later that year.
He spent 21 seasons in the big league, earning Hall of Fame induction from the Veteran's Committee in 1969 and was one of the first players to transition into broadcasting, calling Cincinnati Reds games from 1942-64, according to the Society for American Baseball Research, and remained in Cincinnati after his retirement.
Hoyt died from a heart attack on Aug. 24, 1984 at the age of 84.