Yankees History: Five memorable Fourth of July moments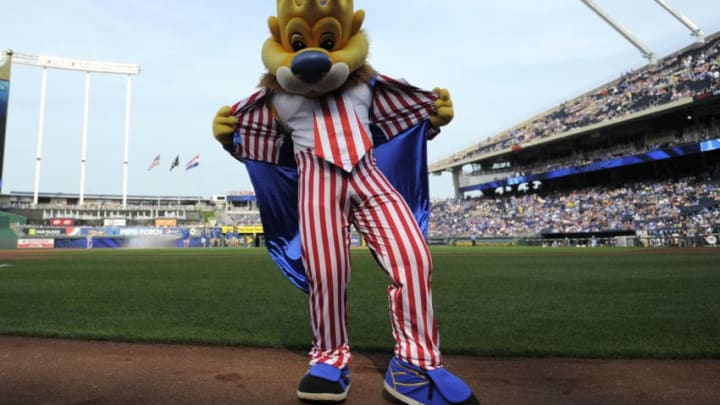 (Photo by Ed Zurga/Getty Images) /
26 Oct 2000: Derek Jeter of the New York Yankees pours champagne over the head of team owner George Steinbrenner in the locker room after the Yankees 4-2 win over the New York Mets of Game 5 of the World Series at Shea Stadium in Flushing, New York. Mandatory Credit: Ezra Shaw/ALLSPORT /
It seems only fitting that former Yankees owner, George Steinbrenner, would be born on the Fourth of July, a day when a small band of American Colonists decided to take matters into their own hands while others stood by, to declare their independence from the might of the British Empire.
Steinbrenner, in his individualistic way, declared his team's independence from the might and power of baseball's other owners by forging a path of free spending and all-out war to bring Championships to Yankees fans and the city of New York.
On July 4, 1996, Steinbrenner's team was in the middle of a record-breaking season, heading towards their first Championship in nearly two decades, and one of five that would occur in the ensuing six years.
The game played that day at Yankee Stadium against the Milwaukee Brewers was remarkable only in the sense that it was unremarkable, and just another ho-hum 4-1 win for the Yankees.
A glance at the game's box score shows Andy Pettitte going seven strong innings, upping his record to 13-4 on the season, with the tandem of Mariano Rivera, who was then the set-up man for John Wetteland, coming in to seal the victory, giving Wetteland his 28th save of the year.
Paul O'Neill and Derek Jeter hit home runs, and Tino Martinez collected his 61st RBI of the season, and Bernie Williams threw John Jaha out at third base.
But the bigger story of the game was the birthday present George Steinbrenner decided to give himself, over protests from his General Manager at the time, Bob Watson, that the player wasn't "a fit" for the Yankees, by signing Darryl Strawberry to a contract.
Strawberry, who by this time in his career, had been in and out of rehab for alcohol and drug abuse, could only be found playing with the Independent St. Paul Saints in Minnesota.
Strawberry, though, was tailor-made for Steinbrenner, the man with the big and forgiving heart, and he came through for the Yankees in a big way over the next 63 games of the season, slugging eleven home runs and driving in 36.
Then, to cap off his resurrected career, he propelled the Yankees to the World Series in the ALCS against Baltimore, batting .417 with three more home runs and 5 RBI.
And when all the dust settled, it turned out that it would be Watson who didn't fit with the Yankees, when, in1998, he was replaced by Brian Cashman.
Strawberry would be granted free agency by the Yankees twice, only to be re-signed by the team for the 1998 and 1999 seasons. Strawberry and Steinbrenner would collect another World Series title together in 1999, Strawberry's last season in the major leagues.